Casey Grage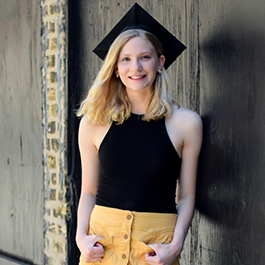 Biography
Casey Grage '19 is the CEO of a neurotechnology startup "born and bred out of Northwestern," called Hubly Surgical Inc. Casey was part of a six-person team in the NUvention Medical course of Fall '17 and Winter '18, when they first started proposing and working on their prototype for an integrated drilling system to help with intracranial access surgeries.
"The NUvention medical course is the only reason why Hubly now exists and is my full time job," said Casey. "It is where the founding members met each other, devised an idea, and developed a prototype."
Casey had always had her strong-minded ambition and passion for neuroscience. As a kid, Casey was a huge fan of Indiana Jones and loved to spend her free time learning about different kinds of sharks or how to survive in the wild. She also has a published book called Adventure at Last that she started writing at age 8 about "three girls who traverse the dangerous terrains" that she studied. That driven energy and passion for neurology eventually brought Casey to Northwestern as a neurology major.
Casey credits the Farley Center and Northwestern for being a huge resource in getting her where she is now. "The center and university have always been kind and supportive of Hubly, and their teachings have stayed with us long after graduation."
Back to top