Charbel Bourjas
Product manager, entrepreneur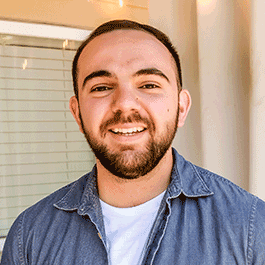 Quick Facts
Degree: BS in computer science, Farley undergraduate minor in entrepreneurship '19
Hometown: Oak Lawn, IL
Area(s) of Interest: Product creation, consumer technology, real estate, entrepreneurship
Current Job: Product manager, DoorDash
Favorite Farley Class: Engineering Entrepreneurship
"Ask the really hard questions to understand the 'why' of something because that leads you to solutions."
---
Q&A
What led you to the Farley Center?
When I was a first-year student, the Farley Center presented a program to engineering students about how you could take your Northwestern education and apply it a bit differently. Through Farley, I could take project-based courses such as Innovate for Impact. These were opportunities well outside the typical classes an engineer would take, and I was intrigued.
Why did you choose to study entrepreneurship?
The great thing about entrepreneurship is that it welcomes anyone who is willing to work toward it. If you have the will for it, you can do it.
What is a particularly memorable experience from your time at Farley?
During the Engineering Entrepreneurship course, my team and I spent 10 weeks building a product and failed multiple times doing so. A week before Demo Day, we realized the product wasn't working the way we wanted. We spent long hours over the next week trying to ready the product for our Demo Day pitch — testing, tweaking, and iterating until we got it to where it needed to be. It was a rich and rewarding lesson in teamwork and perseverance.
---
---
Students with all types of backgrounds take classes at the Farley Center. What was that experience like for you?
One of the awesome things about Farley was that courses included students from all over Northwestern. I remember courses with students from Weinberg, Medill, and McCormick, classmates who were athletes, artists, and musicians. It introduced me to people I wouldn't have otherwise met and helped me understand different perspectives and points of view.
In computer science, I was often focused on solving a specific problem. It was typically the computer and me, maybe a few other people. At Farley, though, the problems I found myself addressing were very, very multidisciplinary. They involved having three or four people from diverse backgrounds together working toward a solution. That experience was to my benefit, and something I enjoyed about entrepreneurship.
What was the most important lesson you learned at Farley?
Ask the hard questions. I remember an entrepreneurship course with Neal Sales-Griffin where we were trying to get to the core of a problem. The thing we returned to time and again was to ask the really hard questions to understand the "why" of something because that leads you to solutions.
How has Farley propelled your career as a product manager?
Coming in as a computer science student, I thought I would graduate and work as a software engineer. My first experience with entrepreneurship was through Farley programming and that changed the trajectory of my career, kickstarting my whole journey into entrepreneurship and leading me into product after graduation.
One of the influential courses I took at Farley was Product Management 101. It taught the foundations of what product is and what a product manager does. While there's no direct course that will teach you all the things you need to know — you're connecting the dots from different courses and perspectives to create deeper knowledge and understanding — Farley built a course around this one prevalent topic and taught me many of the things I'm doing in my job today, such as working with different people from engineers to designers to marketers, thinking creatively, and trying to understand the core of a problem.
What would you say to a student considering taking a Farley class?
The great thing about Farley and the entrepreneurial experience is that it teaches topics and values that can apply to any career. I would highly recommend students find a course that interests them — and there are plenty of compelling courses created around relevant topics — and enroll. Precisely because Farley is multidisciplinary and so wide ranging, it teaches different skills that end up being a wonderful supplement to the other education you receive at Northwestern.
Back to top