Lauren McCarthy
Producer, film executive, product manager / marketer, and storyteller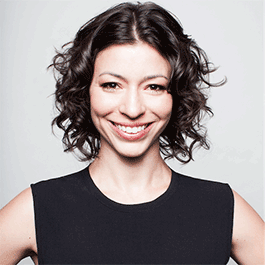 Quick Facts
Degree: MS in Leadership for Creative Enterprises, Farley graduate minor in entrepreneurship '21
Hometown: Arlington Heights, IL
Area(s) of Interest: Music, TV/film, performing arts, theatre, nonprofit work, entrepreneurship, PR/marketing
Current Job: Strategy and Product Consultant at Aspentri, VP of Product at Issho and co-founder of Black Man White Woman Productions with husband Jerry Minor
Favorite Farley class: NUvention: Web + Media
"Whatever problem you're trying to solve, there's always a story involved."
---
Q&A
Tell us a little about your background.
I moved to Los Angeles 13 years ago. I was working in music and feature development and climbed my way up to VP level at an independent studio called Broad Green Pictures, where I oversaw movies ranging in budget from $250,000 to $26 million. I got to do many, many things and got kind of addicted to startup life. I discovered I'm the least lost when I'm building something.
What led you to the Farley Center?
Broad Green Pictures went under, and then the pandemic happened. There was no film/TV production, which meant no one was hiring a development executive. My husband, who is an actor, wasn't getting cast in anything because no one was shooting. I was pregnant at the time, and we were a little worried that our finances were tied to an industry that can shut down like that.
I started looking for MBA programs, and the MS in Leadership for Creative Enterprises (MSLCE) program appeared. I always wanted to go to Northwestern. I grew up near Chicago and spent time after college at the Second City Conservatory, so Chicago — and Northwestern — is important to me.
I learned I could do the program completely online in one year, so I went for it. I heard about the Farley Center at the MSLCE orientation and found out Farley offered a graduate minor in entrepreneurship. I chose Northwestern because of the resources it provides, so I wanted to take full advantage.
Why did you choose to study entrepreneurship?
It was an early goal to start my own production company or run someone's "production overall deal" (called "pods" in the entertainment industry). But I had no idea that I was going to like entrepreneurship.
As a woman, I always felt left out of the room when it came to talking about financials or business structure. I didn't know how to build a business plan or what that even meant. Knowing I was missing those skills, it appealed to me that I could pursue an entrepreneurship program to help me fill in the gaps.
What types of skills did you learn in Farley classes?
I enjoyed learning the methodology and learning about frameworks and user flows. It reminded me a lot of script development and how I got feedback and moved things around in outlines based on that feedback. My professors also graciously walked me through transferring human-centered design skills over to the entertainment industry. They really took the time to explain different types of storytelling, how to make a deck, and how to pitch certain types of products.
Students with all types of backgrounds take classes at the Farley Center. What was that experience like for you?
In NUvention: Web + Media, I worked with a UX designer from China, Kellogg School of Management students from Turkey and Korea, Northwestern Engineering students who are veterans, and undergrads who are so much younger and bring a whole different perspective. I can't even describe how powerful that experience was to me.
I think there's a perception that starting your own business, and entrepreneurship and tech in general, is very "bro-centric" and white male. The faculty in NUvention: Web + Media could not be more the opposite of that. They brought in guests who were often women and people of color, and also shared information on how to use the resources and tools and programs that are out there for underrepresented groups in entrepreneurship.
What is the most important lesson you learned at Farley?
I learned that story is everywhere, and story is everything. You're either telling the story of a customer or a product, or, if you're a solopreneur, you're telling the story of yourself.
You always need to craft a narrative surrounding whatever it is you're making and selling. Whatever problem you're trying to solve, there's always a story involved.
What are your plans for after graduation?
My husband and I have started a production company, which my time at Farley inspired me to be thinking about more. I'm looking for jobs maybe in product marketing. And I'm working with Mary Lou Song as a strategy and product consultant at her company, Aspentri, which consults for start-ups. Also working as VP of product for startup Issho, which offers legal support for women solopreneurs and their growing businesses.
What would you say to a student considering taking a Farley class?
Do it! I mean why not, right? Go for it. Whatever you put into it, you'll get back. A year ago, I wouldn't have known that any of this was possible. I honestly can't thank Farley enough.
Even if you go to school for something that isn't creative, no one can tell you that you can't create. There's a lot of merging and synchronicity that can happen between creativity and entrepreneurship.
Back to top