Ibraheem Alinur
CEO and co-founder of City Health Tech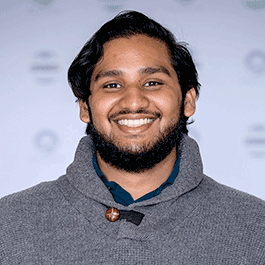 Quick Facts
Degree: BS in industrial engineering, Farley undergraduate minor in entrepreneurship '20
Hometown: Oviedo, Florida
Area(s) of Interest: Disease prevention, technology, design, education
Current Job: CEO and Co-founder of City Health Tech
Favorite Farley class: Personal Branding, formerly called Growing and Monetizing Your Fanbase
"The Farley Center is like a lifelong Swiss Army knife. You have a tool for any circumstance."
---
Q&A
What led you to the Farley Center?
Like many first-year engineering students, I came in with no perspective on entrepreneurship. I didn't even really understand what the word meant, and sometimes still struggle spelling it.
I saw Farley offered an Engineering Entrepreneurship class, which counted toward my engineering elective, and I decided I wanted to learn more. When I got into the classroom, I got involved with a community of people who focused on building solutions.
Why did you choose to study entrepreneurship?
Seeing a lot of overlap between engineering and entrepreneurship really led me to focus on innovation and to learn how I could apply those skills to other sectors in the world. Farley enhanced my engineering degree and my understanding of entrepreneurship and the different ways you can apply that knowledge.
From there, I got involved in the community. I'm still close with a lot of Farley professors. I've talked with a lot of the mentors that have come through Farley classes. And some of my classmates are people I still connect with today who support me on my entrepreneurial journey.
What types of skills did you learn in Farley classes?
One of the most difficult things founders face is understanding accounting and finance. Being able to grasp balance sheets, budgeting, and forecasting is a huge advantage as a founder.
Farley's Startup Accounting and Finance course has really helped me throughout my journey and has been my competitive advantage.
Tell us about your startup, City Health Tech.
City Health Tech is a company focused on health, communication, and literacy, while also tracking handwashing times to encourage and entertain people for the full 20 seconds of handwashing. We are creating the largest data set of handwashing times in the world, and we hope to improve health literacy across the planet.
Everyone has their first startup idea. And when you fail that first time, it really hurts. Having a community to support you and pick yourself back up really helped me keep going. This is my fourth startup idea. And the Farley Center and other resources around the Farley Center helped me keep going and generating that momentum and energy to keep tackling new issues.
---
---
Students from many backgrounds take classes at the Farley Center. What was that experience like for you?
Perspective and empathy are some of the most important things you can learn, and that comes to exposing yourself to many different types of people. You need to understand the world.
That's one of the cool things about being in the Farley Center courses. You learn from people who come from all types of different backgrounds — whether it's major, race, ethnicity, or even degree type.
How has the Farley Center played a role in your entrepreneurial journey?
The Farley Center is like a lifelong Swiss Army knife. You have a tool for any circumstance. If you have questions on marketing, finance, accounting, product management, or team building, a faculty member or mentor can point you in the right direction, share firsthand experience, or even introduce you to potential investors.
Being from my background as first-generation student and understanding the difficulties and barriers around entrepreneurship, the Farley Center really helped remove those and are continuously doing that for me, even after graduation.
What is the most important lesson you learned at Farley?
The Farley Center really hammered home the importance of community at the end of the day. Entrepreneurship is about building community. Who do you want to work with and who do you want to empower? And I think that's really what my takeaway was: figuring out who my community is and how I help grow that community.
What would you say to a student considering taking a Farley class?
I would recommend the Farley Center to anybody. Entrepreneurship is the future. Understanding business and community development and innovation is the key to solving all the new problems that our generation will be facing.
Back to top