Lauren Washington
Aspiring filmmaker, multifaceted artist, and creative entrepreneur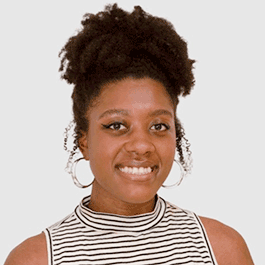 Quick Facts
Degree: BS in radio, television, and film; Farley minor in entrepreneurship '21
Hometown: Kansas City, MO
Area(s) of Interest: Storytelling, film with screenwriting, directing, photography/videography, entrepreneurship
Current Job: Student, research assistant for Rich Gordon (professor and director of digital innovation at the Medill School of Journalism, Media, Integrated Marketing Communications), freelance photographer and videographer
Favorite Farley Class: Principles of Entrepreneurship
"With film or any creative industry, there's uncertainty as an artist. I want to be in control and have the ability to take ownership of my artistic career."
---
Q&A
Tell us a little about your background.
When I was in middle school, my older brother started an independent record label for underground hip hop artists called NAGE. Once I grew more into art and photography in high school, I realized NAGE could be for all art forms, not just musicians, and we started recruiting other creators like fashion designers, filmmakers, and visual artists.
We realized that in all creative industries there's a problem with gatekeeping, accessibility, and a lack of inclusion. NAGE has since morphed into a creative hub and artist incubator called Project FILO.
I knew I wanted to do film when I came into college and I knew I wanted to continue building with Project FILO, too, though I wasn't sure what steps to take there or what my path was.
What led you to the Farley Center?
I wanted to have some direction to build Project FILO with my brother. I found my way into the Principles of Entrepreneurship class with professor Heather Aranyi and I have been enthralled by entrepreneurship ever since then.
Why did you choose to study entrepreneurship?
With film or any creative industry, there's uncertainty as an artist. I want to be in control and have the ability to take ownership of my artistic career. As an artist, you're already an entrepreneur because you're creating the work. Even if you don't realize it, you are your own business.
---
---
What types of skills did you learn in Farley classes?
As artists, we want to create in our own environment and put the work out there, but it's hard to advertise yourself and view yourself as a brand. Through Farley, I've been able to drop that nervousness and put myself out there, to find my community and my network, and market myself.
There's also the idea of adding value to whatever you're trying to accomplish. It's easy to become stagnant in whatever you're trying to build. If you can change your framework to adding value and getting better, that will help you cross the roadblocks you encounter and avoid being in a rut as an entrepreneur.
Developing these skills has helped me unlock another side of myself I didn't know was possible, showing me how to not only be a better artist but an entrepreneur as well.
Students with all types of backgrounds take classes at the Farley Center. What was that experience like for you?
As a filmmaker, I'm a storyteller first, so hearing other people's stories and their journeys is so valuable. With each class, I've learned a different take on how people address entrepreneurship, which has been helpful to enhancing my brand, my vision, and connecting with people.
What is the most important lesson you learned at Farley?
I've been able to see how art and entrepreneurship are linked together, which has changed how I want to approach my career. Creatives so often see art and business as separate, but they intertwine and creatives deserve to be in charge of their work. I want to take that ownership of my own artistic career and help others do the same as well.
What are your plans after graduation?
First and foremost, I want to be a storyteller and build new pathways, so there are a lot of possibilities and avenues I plan to pursue no matter what, though I plan to work on becoming a TV writer or working at a sick production company that aligns with my ethos.
Complementing my love of entrepreneurship, I also hope to build a network with Project FILO that empowers other artists. I want to create an environment that doesn't exclude artists, removes the gatekeeping, and provides artists the tools to succeed and create stories.
If I can become the best artist I can be, I believe I can help other artists find that position as well. That is my great dream.
What would you say to a student considering taking a Farley class?
Whether you're an artist, an engineer, or whatever, there's a program at Farley for everybody to innovate and experiment with whatever it is you want to build. Even if you don't want to be an entrepreneur, there are skills you can learn that will be valuable throughout your life.
Entrepreneurship teaches you how to be uncomfortable, to fail and pivot, and to move onto the next. Those are the lifelong skills I learned at Farley that have changed the trajectory of my life, and I'd encourage other students to jump in and be open to learning.
Back to top