Sophia Wennstedt
CEO, energy innovator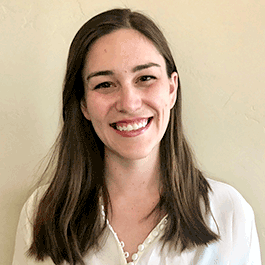 Quick Facts
Degree: MMM '22 (dual degree MBA from Kellogg School of Management and MSDI from McCormick School of Engineering and the Segal Design Institute)
Hometown: Lincoln, NE
Area(s) of Interest: energy, entrepreneurship, sustainability, climate equity/justice, smart cities
Current Job: graduate student, CEO at blip energy
Favorite Farley Class: NUvention: Energy
"Anyone can start a company. Anyone can be an entrepreneur. You just need to have the confidence you can do it."
---
Q&A
Tell us about your background.
Before coming to business school at Northwestern, I worked as a mechanical engineer. I grew up thinking I would be an engineer for the rest of my life, but I began to realize I wanted to have more of an impact on the decisions about what we're making and why, not just designing the components of those products. To do that, I needed to understand the business side of things — how to identify what customers want and need and how to make a product valuable and successful.
What led you to the Farley Center?
I was looking for an innovation course centered around energy and found NUvention: Energy at Farley. It's a course that allowed me to address two things I'm passionate about: energy and innovation.
The first day of class, we went around and said what areas we're focused on, and I found four other people interested in energy storage. Throughout the course, we worked on our idea, and we felt like we had something really sticky by the end of the 10 weeks. That idea has grown into our startup, blip energy.
Why did you choose to study entrepreneurship?
An entrepreneurial mindset fosters an openness and a thirst for new ideas as well as resilience to hearing no, taking that feedback in stride, iterating, and making it better the next time. There's always something new that you can discover and learn.
What was valuable about your experience at Farley?
I thought after Kellogg I would end up with a job in energy; I did not plan on creating a company in energy. Farley provided resources and support that walked me through the entrepreneurial process and helped me bring an innovative idea like blip energy to life.
It's also been valuable and inspiring to have women role models and mentors available to me through the Farley Center. Many times with blip, I'm the only woman in the room. Being able to speak with women in similar positions with shared experiences, who understand what I'm going through and who have already seen it, is invaluable.
---
---
Students with all types of backgrounds take classes at the Farley Center. What was that experience like for you?
I think it is unique and important that the Farley Center connects people from across Northwestern — individuals from engineering, the business school, the medical school, and all these different corners of the University — with a focus on innovation. It provides exposure to people from all walks of life with different perspectives and areas of expertise.
When I'm at the business school, for example, I don't have much access to folks doing deep science research in engineering. We know diverse teams perform better, so the opportunity to get involved with and interact with people in different disciplines with different expertise and levels of experience, from undergraduates to PhD students to faculty, has been beneficial.
What was the most important lesson you learned at Farley?
I didn't come to business school seeing myself as an entrepreneur, so the most important lesson I'll take with me is this: Anyone can start a company. Anyone can be an entrepreneur. You just need to have the confidence that you can do it and the grit to hear a lot of no's.
What are your plans after graduation?
The mission of blip energy is at the intersection of two things I care deeply about — equity and climate resilience — so I plan to continue with the company full time. At blip, we believe that everyone deserves access to energy storage, so we're building the most accessible, affordable, compact, and portable smart home battery that will work for apartment dwellers, residents of multi-unit buildings, and homeowners.
In about a year and a half, blip has entered a lot of competitions and been a finalist in six, including winning the energy and sustainability track at Northwestern's VentureCat competition and the Climate Change prize at ASUio. We've just closed our pre-seed round and are launching our first pre-order.
What would you say to a student considering taking a Farley class?
It doesn't matter if you are an undergraduate or a professional with 10 years of experience coming back for a master's degree, you can always benefit from the creative energy flowing around the Farley Center. The experience of building something, ideating, and testing is going to be important and applicable to any position you might find yourself in further down the line.
Back to top