Tinker. Tailor. Entrepreneur.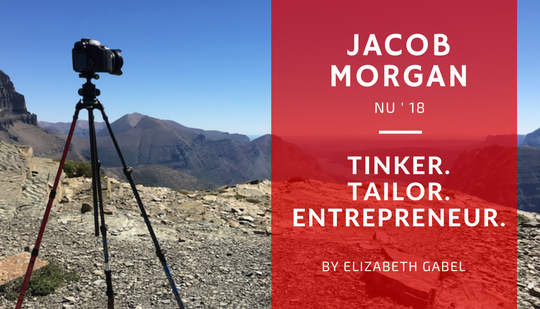 Picture this: Jacob Morgan, NU '18, has just hiked to the top of Swiftcurrent Mountain and is preparing to capture his achievement with a photograph. The terrain is uneven, the wind is relentless and Jacob's hands are trembling from the adrenaline of the strenuous climb. Despite these adverse conditions, Jacob's camera holds steady on its tripod, and he is able to capture a breathtaking photo worthy of publication.
Making Jacob's photo-op atop Glacier National Park even more remarkable: Jacob made the case and the tripod that hold his camera using designs he engineered and constructed himself. His camera case incorporates materials he tested for optimization in his Materials Selection course (MAT SCI 318) and is lighter than anything available on the market. His tripod incorporates the hiking poles Jacob carries on every hike as supports, and is built from plastics he printed on 3D printers at The Garage, Northwestern's startup incubator and makerspace. Jacob says the energy-saving benefits of his early designs are noticeable, and they have inspired him to create new products, like a super-lightweight backpack that will save him even more energy on future climbs.
The same drive fueling Jacob to design his energy-conserving innovations drove Jacob to design his own major at Northwestern - one that allows him to build, and sell, designs as an individual.
"During my first two years at McCormick School of Engineering as a Manufacture & Design Engineering (MaDE) major, I liked having the group experience of working for real clients with real world problems, especially problems concerning social impact," Jacob says. "But I wanted courses that would let me tinker on my own."

Using the McCormick handbook, student recommendations and the help of faculty members (Professor David Gatchell of the Segal Design Institute and Mike Marasco, director of The Farley Center), Jacob tailored the remaining two years of his degree as neatly as he's tailored his camera case and tripod. He did so while making sure his personalized curriculum met the rigorous, nationally-recognized ABET (Accreditation Board for Engineering and Technology) requirements for engineers and still exposed him to the business principles he'll need to be a successful entrepreneur in the future. Among his required classes are a range of entrepreneurial courses offered through The Farley Center for Entrepreneurship and Innovation, including ENTREP 225 (Principles of Entrepreneurship), ENTREP 325 (Engineering Entrepreneurship), ENTREP 395 ( Selling and Scaling), ENTREP 495 (Nuvention), and ENTREP/IEMS 399 - a two-unit independent study that bridges the fields of management, engineering and business.
Though not versed in the ways of startups or entrepreneurship, Jacob says his discussions with the Farley Center about his fledgling business concepts were open and engaging. "Mike Marasco came to meet me and talk to me about my plans for my major and my designs without even knowing me," Jacob says.
Now, with Marasco's encouragement and guidance, Jacob is pursuing a new major, Product Design and Entrepreneurship, through McCormick's Integrated Engineering Studies (IES) program.

Jacob is also taking his first entrepreneurship course, Principles of Entrepreneurship, this fall. He says this initial foray into business education has been enjoyable. He's already looking forward to taking more Farley Center courses and to one day selling his hiker-and-photographer-friendly equipment to others who share his dual passions.

That day will come soon - during that recent trip to Glacier National Park, hikers took notice of Jacob's one-of-a-kind designs and asked where they could buy them.

The interest surrounding his prototypes has helped Jacob realize the possibility of selling his products. He says courses that help him explore the entrepreneurial opportunities of his designs are vital, not only to his education, but also to his future. The Farley Center, and its entrepreneurial curriculum, is helping Jacob turn these possibilities into a reality.