Farley Co-directors Spotlight NUvention Course Offerings
Farley Center co-directors Mike Marasco and Mark Werwath took to the podium to drum up interest for upcoming NUvention fall course offerings and to spotlight the NUvention program's core beliefs. The NUvention information session featured testimony from alumni, success stories and an informal Q+A.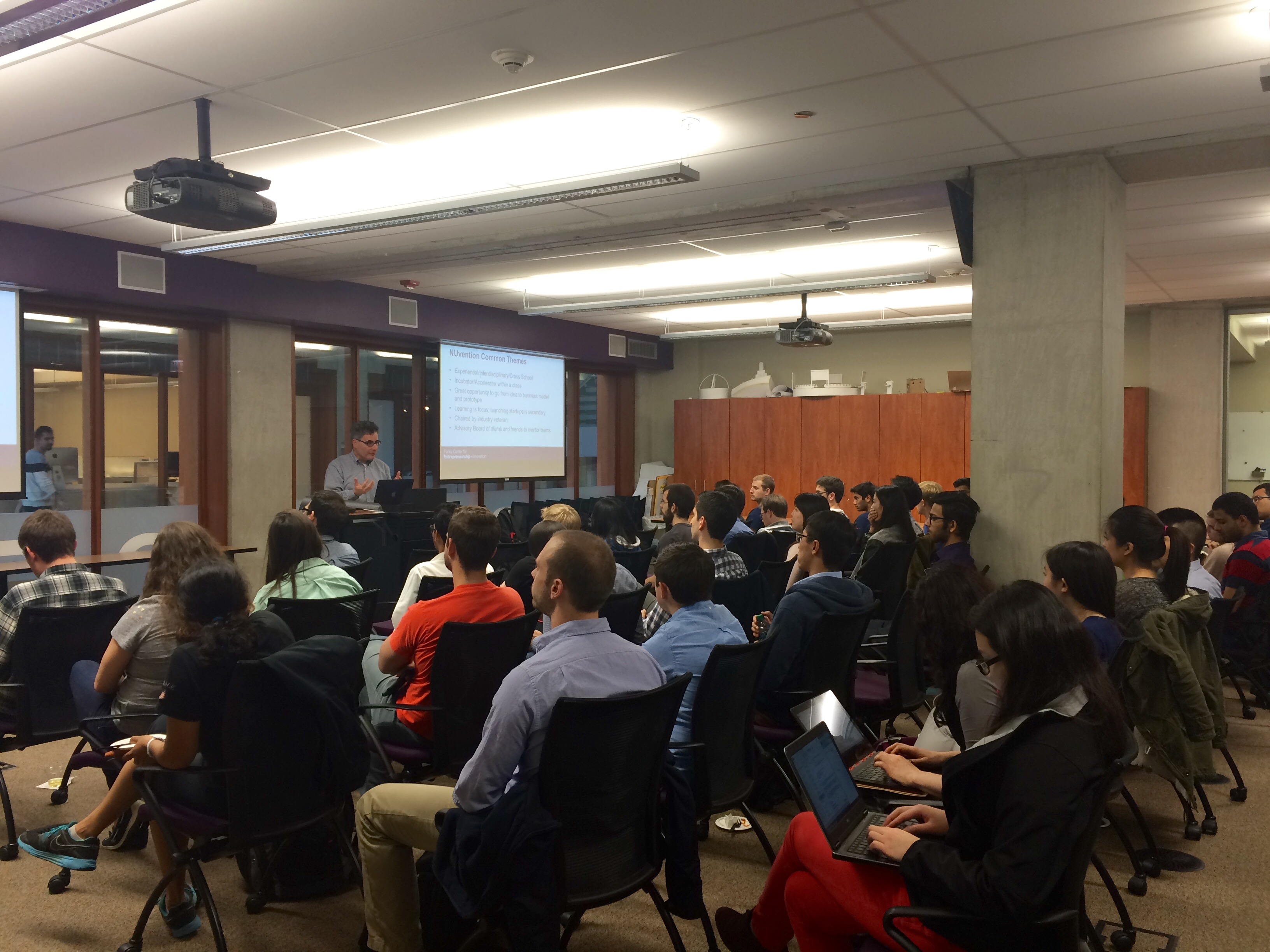 NUvention's curriculum is focused on experiential, interdisciplinary learning, Marasco said. Students are thrown into a classroom that doubles as an incubator, where they work together to form ideas, formulate business models and build prototypes. Drawing from the brainpower of a variety of schools across campus, the courses bridge different understandings of problem-solving to create "sustainable, self-perpetuating" solutions, Werwath said.
Although the courses have given way to a host of successful start-ups (Adaptly, Titan Aerospace and Hazel Technologies to name a few) and millions of dollars raised, the purpose of NUvention still lies in learning. Launching the next best thing, Marasco said, is secondary.
An exciting and unique aspect of NUvention is the industry access afforded by the deeply involved Advisory Board (composed of alumni, entrepreneurs and industry experts) of each course. Students are mentored by these industry veterans, who bring with them their own network and distinct knowledge of the markets that students are trying to tap into. Advisory board members from all over the U.S. fly into Evanston to hear final pitches at the conclusion of the course.
Marasco and Werwath concentrated discussion on the Medical, Advanced Materials, Therapeutics and Transportation course offerings. Therapeutics, tentatively on the agenda for fall, will begin its first run the coming school year only if enough student interest is generated.
The course, spearheaded by Joe Moskal, will appeal to students interested in early stages of drug development. Moskal recently sold his start-up, Naurex, to pharmaceutical titan Allergen.
NUvention Transportation is the Farley Center's other new NUvention course this fall. It is supported by a grant from Boeing, and offered in partnership with Northwestern's Transportation Center. Students will get exposure to the latest trends and technologies in the transportation sector, while working with leaders from major companies in the automotive and aerospace industries.
Applications for fall courses are currently live. Students can access them on the Farley Center website.