The Ninth Annual Momentum Awards: Celebrating Chicago's Entrepreneurial Momentum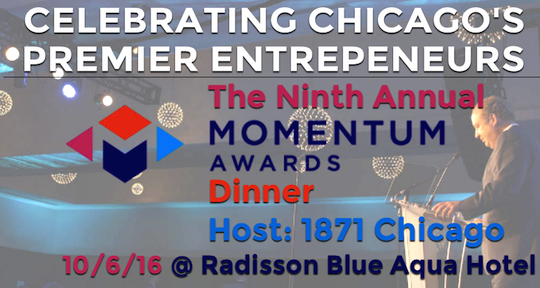 The 2016 Momentum Awards swept through the Radisson Blu Aqua Hotel on Thursday, Oct. 6 to honor Chicago's premier entrepreneurs and the entrepreneurial momentum that's been mounting in Chicago since 1871 - a year that holds significant culture and historical ramifications for the city. Hosted by Chicago incubator and Chicagoland Entrepreneurial (CEC) flagship project, 1871, this year's Momentum Awards made two clear statements: The entrepreneurial baton in the city of Chicago continues to be deftly passed from one generation to the next, and, Chicago steady climb to greater entrepreneurial heights has remained steady since what many consider to be its darkest day, October 8, 1871 - the day of Chicago's great fire.
I was fortunate enough to attend the awards celebrating Chicago's continued renaissance in the place of the Farley Center's Mark Werwath, Clinical Associate Professor and Director of the Master of Engineering Management Program. The evening kicked off with a reception that united hundreds of leaders and pioneers to connect and trade insights. This was followed by a formal dinner, where I had the pleasure of sitting at Northwestern's sponsored table, and I was able to chat with some of our fantastic faculty. The evening's featured program recognized leading individuals and institutions who embody entrepreneurship, including Impact Engine and Jai Shekhawat.
Impact Engine was co-founded by our very own Linda Darragh, a clinical professor of Entrepreneurial Practice and the Executive Director of the Kellogg Innovation and Entrepreneurship Initiative, as well as the Heizer Center for Private Equity and Venture Capital. The company launched in 2012 as an accelerator for social entrepreneurship, providing seed capital to early-stage for-profit technology companies that solve social and environmental issues. Three years later, Impact has built a portfolio of 29 companies and has launched a $10 million venture fund to better support the community of impact entrepreneurs, investors and mentors. Impact Engine was honored with the "Chicagoness" award for representing the spirit of Chicago—a focus on community, openness and collective success.
The Entrepreneurial Champion Award honored Jai Shekhawat, Kellogg School of Management '96, for his business success and his support of the broader entrepreneurial community. After graduating from Kellogg, Shekhawat worked at McKinsey & Company before founding Fieldglass, a business services firm offering a Vendor Management System that manages contingent workforce through cloud-based technology. Fieldglass was acquired in 2014 by SAP for over $1 billion. Shekhawat stepped down as Fieldglass CEO in 2015, but over 80 percent of its employees still remain, displaying how tight-knit the culture he built is. Shekhawat now sits on several boards and is a trustee to the Field Museum of Chicago, a founding member of the Fire-starter Fund and an active angel investor in more than 40 startups. He has been a mentor at 1871 and serves on the board of the CEC.
The gala concluded with a celebratory after-party that kept attendees fully equipped with drinks, music and games, courtesy of a bar, a DJ and a game room. Take-home treats were also provided.
I feel truly honored to have been in the presence of such inspiring entrepreneurs and business leaders. In view of the night, I am certain that Chicago will remain one of the leading cities for entrepreneurship.
Let's keep the momentum and spirit of 1871 going!