Launch's Winter Pitch Night Picks A Winner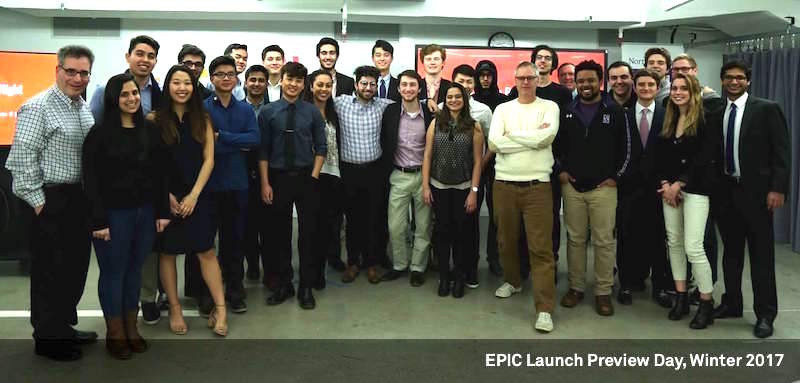 Launch is Northwestern University's year-long, student-led student accelerator. As a branch of EPIC, the main purpose of Launch is to give participating students the toolbox they need to turn loosely sketched, "napkin" ideas into functioning businesses.
This year, a cohort of thirty students, including mostly freshmen and a few sophomores, were accepted into the Launch program. Most of these participants came to Launch without ideas and were welcomed into the program by being taught how to identify "pain points," a problem that needs a solution, in verticals that interested them. Students then use these points to ideate an innovative solution. After a few Launch sessions, the entire cohort was ready to form teams and start building out their initial ideas during the rest of the Winter quarter.
On March 2, 2017, to conclude the Winter quarter, Launch held a Winter Pitch Night event at Northwestern's entrepreneurial hub, The Garage. All eight teams formed by the cohort pitched their startups to a panel of judges which consisted of Farley Center for Entrepreneurship and Innovation Director, Mike Marasco, Entrepreneurship/Farley professors Gregg Latterman and Neal Sales-Griffin, and Farley Center Advisory Board member, Bob Shaw. Each team was given five minutes to pitch and received a five minute Q&A/feedback session with the judges.
These end-of-quarter pitch events are extremely beneficial to Launch's participants. As a completely student-led and student-directed enterprise, Launch relies on the mentorship a panel of established entrepreneurs like Marasco, Shaw, Latterman and Sales-Griffin to impart the significant experience and alternate perspectives that exist outside of Launch's immediate ecosystem.
After the team pitches, the judges deliberated on the presentations and concepts of all eight teams and gave Team Care Package, an affordable snack-delivery subscription service for college students, the highest score. With their win, Care Package took home a small cash prize. Team Care Package also took home an exciting boost of confidence.
"We were really happy with the win because it validated all of the hard work and long hours that we put into this idea," said freshman Sam Kim, a Care Package team member.
Another way in which Launch is beneficial to its members is that it gives inexperienced student entrepreneurs a taste of entrepreneurship and its dynamics, including success and failure, while allowing for such experiences to take place in a safe environment.
"Failure is celebrated in the program because it gives the team a chance to see what went wrong and make sure it does not happen the next time," said Justin Fleischmann, co-director of Launch.
All of the Launch teams will utilize the constructive, post-pitch feedback they received from the Winter Pitch Night event to guide their projects in Spring quarter where there will be further participation in entrepreneurial activities and events. Launch members are already anticipating their first Spring quarter general session. Demo Day, where Launch's teams will pitch their startups and working product ideas to a new panel of expert judges for feedback, is planned for the end of May 2017. Feedback gathered at these future events will keep the students on track to fine-tune both their entrepreneurship and their innovations for the quarters to come.
Here is a list of the eight Winter 2017 Launch teams and their business concepts:
Team Care Package — Care Package is a subscription service that delivers snacks straight to the student's door. Students don't have to worry about allergies or preferences because Care Package polls consumer interests and provides widely-loved snacks for much less money than competitors and even vending machines prices.
Team WildTea — WildTea, Northwestern's premier bubble tea company, aims to bring fresher, healthier, and more delicious drinks to NU at affordable prices for a college budget.
Team Apex Design — Apex Design designs and builds custom-engineered products for non-designers by bridging the gap between customer and manufacturer.
Team New Age Art — New Age Art plans to make bespoke, premium, personalized art available to everyone via a consumer website which matches consumers to artists who will then create graphic art specifically for that consumer.
Team Flipflop — Flipflop is an interactive fashion application which crowdsources fashion options for individuals by means of an audience voter rating system.
Team KartPool — KartPool pools online orders to meet free shipping quotas using geo-location made available through a Google Chrome extension.
Team Outcome Tutoring — Outcome Tutoring is an online platform that facilitates peer-to-peer tutoring, and makes finding a good, affordable tutor as easy as clicking a button.
Team No|Feedback — No|Feedback is a custom apparel company that wants to give a voice to everyone.