Hidden Option "E": How Northwestern Helped Me Find My Inner Entrepreneur
Like many of my classmates in the MS in Biotechnology Program, I came to Northwestern with a post-graduation plan. I was here to polish my gene editing skills before starting my bio-pharma career. I saw all my career options listed out before me as definitively as I have seen answers on a multiple-choice exam. Metaphorically speaking, I had already filled out and handed in a single answer for my future.
But, here I am, post-graduation, not living out my pre-planned bio-pharma career. I have changed my final answer to the exam about my life plans after finding hidden option "E" — Entrepreneurship, on that multiple choice test for my future. The people and resources at Northwestern helped me break out of that rigid, test-like mentality and realize write I could write in another option for the road ahead.
NUvention classes, Farley Center for Entrepreneurship and Innovation courses that fully expose students to the life-cycle of a business, fomented this shift in mindset. I enrolled in NUvention: Advanced Materials for the science, but stayed for the entrepreneurship. Working with a diverse team, ideating, and getting creative with technology felt like a natural fit. I enrolled in NUvention: Energy the following quarter to continue my hands-on education in entrepreneurship.
Because of NUvention, I also sought out a product design independent study though the Segal Design Institute. I brought my own idea and prototype of a collapsible camping lantern to this class. My initial approach was engineering-minded, but this class helped me start thinking like a designer, and my improved prototype and customer feedback reflect this change.
My initial idea for a camping lantern was transformed into a camping multi-tool called the Fire & Light Multi-tool. Through customer interviews I realized that campers favor multi-purpose accessory gear over gear that only does one thing. My initial design was for a compact lantern. Now the design includes a lantern, emergency fire starter, magnifying glass, and pocket mirror—without adding any extra weight or volume to the original design.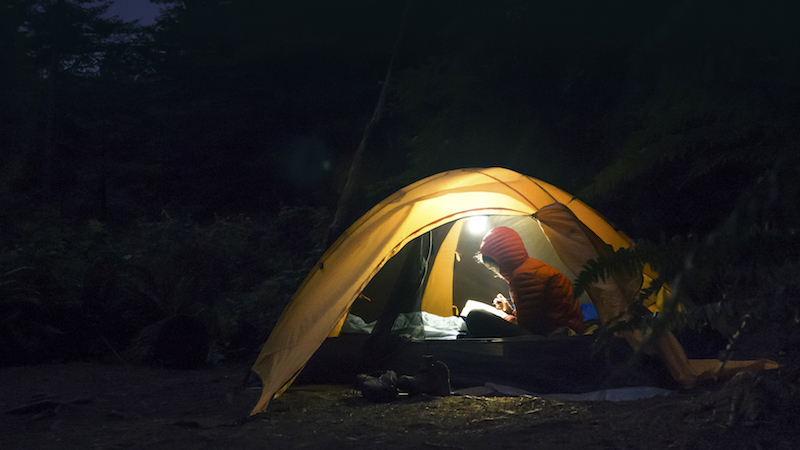 Even after attending NUvention and the Segal Design Institute course, there was still one critical element for success missing, a support network and a community of other student entrepreneurs. I found this critical element at The Garage at Northwestern. Meeting other students who were serious about their start-up advanced my mindset regarding what I could achieve. There are lots of great resources at The Garage, like 3D printers and experienced mentors, but I found the community aspect of The Garage to be the most beneficial.
Northwestern gave me the tools to get started, but as graduation approached my commitment to option "E" became strained. FoMO (The Fear Of Missing Out) took root as I watched classmates from my MS program get jobs at biotech behemoths. I worried that my science education would be wasted if I didn't apply for jobs or PhD programs in my field. Without a support network my choice seemed questionable.
Resources from Northwestern provided valuable support again, with a program for students and alumni to work on their projects at mHUB (a Chicago incubator for companies building a hardware product). Getting out of my apartment and into mHUB played a huge part in overcoming FoMO. The Fire & Light Multi-tool is currently under development at mHUB. The support and mentorship from this community of other entrepreneurs and makers provides the structural framework for this project to continue.
It's been four months since graduation and I already have a lot to show for casting my worries aside and filling in option "E." I have an incorporated business, non-provisional patent applications filed, more user feedback, and a prototype that's closer to manufacturing-ready. There's still a lot of design and marketing work that needs to be done before our planned 2018 Kickstarter launch, but the path there seems manageable.
The opportunities I found at Northwestern helped me advance the Fire & Light Multi-tool. I'm confident in this product, but even if it fails I have a whole white-board queue of ideas waiting to be tested. In addition to those ideas, I'm now armed with more knowledge and confidence thanks to my time at NU. I can't say for sure if I'll stick with option "E" forever, but it's pretty hard to go back once you start writing your own future.