In Memoriam: Nancy Jo Farley (1930-2017)
Dear Farley Center Community,
Sarah and Jim Farley asked that we let you know about the passing of their mother, Nancy Farley, on Thursday, January 12th, 2017. Nancy accompanied her husband, Jim Sr., on almost all his visits to Northwestern, and many of you had the pleasure to meet her. She was a true matriarch of the Farley Family and a very special woman.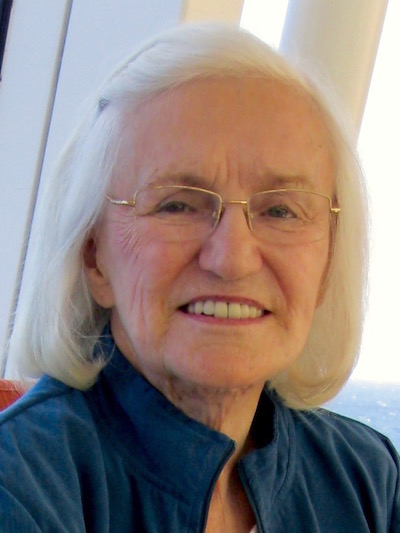 The Farley Center extends our deepest condolences to Nancy's family and we would like personally thank her for everything she, Jim Sr. and the family have done for the Northwestern Community.
Jim's and Nancy's legacy lives on in the work of the Farley Center every day. The Farley family's continued support and guidance help us achieve our goal to support all student entrepreneurs at Northwestern University.
Sincerely,
Mike Marasco, Director and Clinical Professor, The Farley Center for Entrepreneurship and Innovation
-------------------------------------------
Obituary of Nancy Jo Farley
Nancy Jo (née Hollabaugh) Farley, 86, of Montgomery, OH, passed away on Thursday, January 12, 2017, surrounded by family and her faithful companion dog, Cookie. Beloved wife of 56 years of the late James N. Farley, Nancy is survived by her 5 children, 16 grandchildren, and 3 great grandchildren: Sarah (Dickerson) Cincinnati, OH & sons Ian, D. Wells, Tanner Huskey; Timothy (Barbara) Farley, Santa Rosa, CA & children and grandchildren Jason (Barbara) Farley & children Loïc and Nora; Meghan (Jhonson) Moura & daughter Maya, and Zachary James Farley; Barbara Carré, St. Anthony, MN & children Rémy and Sarah Carré James C. (Mary) Farley, Hoffman Estates, IL & sons Zachary Joseph, Alexander, Nicholas, Jonathon, James Farley; Stuart (Katherine), Scottsdale, AZ & sons Travis, Justin, Parker Farley.
Nancy was born May 14, 1930, in Coffeyville, KS, to the late Carl W. and Ruby F. (McLemore) Hollabaugh. Her family moved to Chicago when she was a teenager, where she later met fellow Kansan Jim at the "Bachelor House" near Northwestern University. Working as a secretary to seven salesmen prepared Nancy for the role she was most devoted to, that of "Mother." Nancy raised their five children while Jim traveled extensively, and he credited her with the success of his company, Speed-Fam Corp, stating "we could not have made it without Nancy." Nancy ran a lively household with dogs, cats, friends and family sometimes filling the house to overflowing. Her affection for dogs extended to her philanthropic support of the HonorHealth Hospital K-9 Unit.
A celebration of her life will be held Saturday, January 21 with visitation from 2-4 p.m. followed by a memorial service at 5 p.m. at Strawser Funeral Home, 9503 Kenwood Road, Blue Ash, OH 45242.
A second service will be held on Saturday, January 28, 2 pm at the Grace Episcopal Church, 2 Hyde Park Drive, Hutchinson, KS 67502. Burial will follow in the Eastside Cemetery in Hutchinson, KS. Services & burial are being coordinated by Hutchinson Funeral Chapel.
Send online condolences to www.strawserfuneralhome.com. In lieu of flowers, donations may be directed to the HonorHealth Foundation (K-9 Unit), 8125 N. Hayden Road, Scottsdale, AZ www.honorhealth.com.