Jon McNeill '89 Addresses His Journey from NU to the C-Suite at Lyft
Jon McNeill '89 Addresses His Journey from NU to the C-Suite at Lyft
Jon McNeill, Lyft COO and former Tesla executive, illuminated the importance of understanding oneself to make the correct career decisions, while addressing a group of NUvention Web + Media students on Wednesday, May 22nd. He focused on how his time as a Northwestern undergraduate student working at the Chicago stock exchange in the afternoons informed his commitment to pushing himself into new career directions, despite pressure to take the safe path in conventional finance or business operations.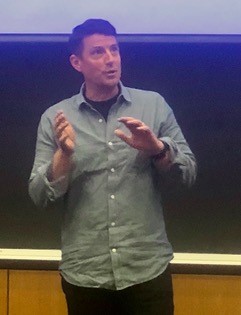 Jon shared how he did not come from a business-minded family, meaning that he did not intuitively understand the language of finance as he began his career. By the time of his graduation, he had the opportunity to work on the Chicago stock exchange full-time. However, Jon decided to challenge himself with a more immersive experience in business by taking on a consulting opportunity in Boston under Mitt Romney at Bain Capital.
At that time, Jon existed as one of the only management-track Bain employees who attended a Big Ten school as opposed to an Ivy League school. Despite receiving some less desirable assignments during his early tenure at Bain, Jon felt that he benefited from having Mitt Romney as his boss and role model for ethical leadership.
He emphasized how he learned from Mitt Romney that 90% of workplace success is who you are working with, while 10% is what you are working on. Jon ultimately found himself drawn into the tech space as his career further evolved over time, and received a personal invitation to join Tesla from Elon Musk.
Jon took on a role at Tesla as the President of Global Sales, Marketing, Delivery & Service in 2015. Prior to this role, his career largely concentrated on opportunities in Boston, so this position marked a transition to the fast-paced world of Silicon Valley tech. This placed Jon in the unique position of being older than his CEO, representing a cultural shift from the more conventional workplaces of the East Coast where Jon had previously worked.
While at Tesla, Jon grew within the tech space, and ultimately felt that he wanted the opportunity to take a company public. This informed his decision to join Lyft in 2018, as the company prepared for its initiative public offering in early 2019. From this experience, Jon gained an understanding of market gaps for Lyft to fill in the future, hopefully by addressing the technological gaps in the autonomous vehicle industry such as the inability to make left turns.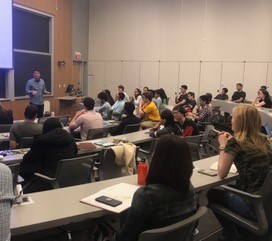 Students engaged with Jon in a vibrant Q + A session, as they explored topics including the future of travel. "Jon explained some tech trends that we should look out for in the near future and that was really eye-opening. I especially remember when he explained why autonomous vehicles will still take years to become a reality, and he broke down those esoteric concepts and jargons to make it easily understandable for a student from a non-technical background," said Isabella Jiao, a Medill Master of Science in Journalism student in the Media Innovation and Entrepreneurship specialization.
Following his speech at NUvention Web + Media, Jon addressed students as the keynote speaker at the 2019 Venture Cat.