Music Business & Technology meets Entrepreneurship & Innovation
Niteskool Project 'One Takes'
Erica Bank is studying music business and music technology at the Bienen School of Music and pursuing an undergraduate Certificate of Entrepreneurship at the Farley Center. Erica has been the president and creative director of the Niteskool Project for the past two years, and is the founder of the series, Niteskool 'One Takes'.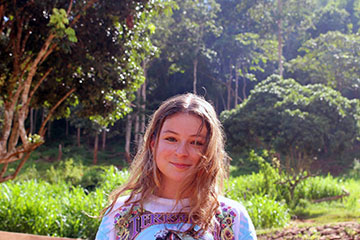 After her freshman year, Erica pivoted from a major in Vocal Performance to pursue her interests in the intersection of music, business and technology. To her dismay, Northwestern does not offer any sort of music business program or degree, prompting her to design her own major and pursue a certificate in entrepreneurship. The coursework offered at the Farley Center of Entrepreneurship has proved to be integral in Erica's personal and career growth. In specific, Erica has utilized branding/marketing skills learned in ENTREP 395 Launching Your Brand to monetize her creative pursuits and maximize her personal revenue streams.
Founded in 1983, the Niteskool Project is the oldest student-run music production company in the country. For the past 35 years, the Niteskool Project has provided Northwestern undergraduate students with unparalleled hands-on experience in the film and music industry, catalyzing the careers of many NU alumni. After a two year hiatus, Erica Bank reinstated the Niteskool Project in 2017, and introduced the original concept, Niteskool 'One Takes'.
In May of 2019, Northwestern junior, Erica Bank, united multiple generations of the Niteskool Project by producing an Alumni Networking Summit with a specific focus on career advancement in the entertainment industry. Through a series of career panels, networking events and live performances, the inaugural Niteskool Alumni Networking Summit celebrated the rich legacy of the Niteskool Project, and connected passionate Wildcats through a shared project and interest.
Farley Professor Heather Aranyi shares, "It was my pleasure to moderate the music panel at the Niteskool Alumni Reunion. The Farley center provides a phenomenal platform and rigorous curriculum for our students to study creative entrepreneurship. Niteskool is a natural partner for our students to implement what our students are learning in our classes and Erica is an incredible ambassador both for the Farley Center for Innovation and Entrepreneurship and Niteskool."