NUvention Web + Media Students Pitch Their Pioneering Startups
NUvention Web + Media students launched their businesses after six months of work dedicated to market research, customer development, prototyping, and product testing; innovating in spaces including the sharing economy and the consulting industry. Their final pitches on June 11th at the McCormick Foundation Center reflected their creative ideation and growth, as their expert advising from the AB Board prepared these students for future encounters with venture capital.
Here are their stories.
FoodXP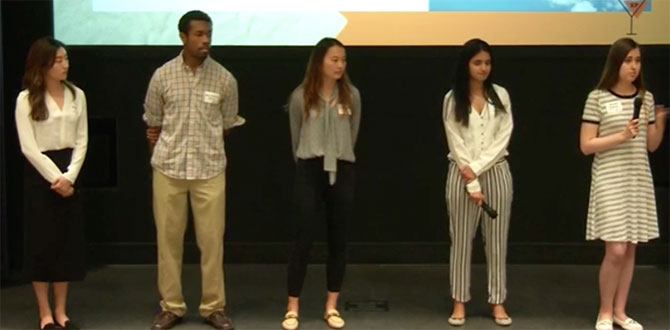 FoodXP is a niche marketplace that connects people interested in dining and drinking with hosts who offer their expertise through a culinary experience. These experiences include cooking classes, food tours, drinking/music, and social food meetups. FoodXP arose from the need for more personalized capabilities for food hosts on Airbnb, as Airbnb does not allow the host to change the time or price of the tour. FoodXP onboarded four hosts during the class time frame.
GrowIY
GrowIY serves as a consulting company for do it yourself cannabis home growers, connecting novice growers with expert consultants. Additionally, GrowIY offers an application to allow growers to track their plants. Many cannabis home growers take notes about their plants, but communicated during customer interviews that they would like a digital way to do so with relevant information provided by GrowIY about the stage of the plant's life cycle to avoid common growing problems. During testing, GrowIY attracted 20+ users for the growing app and ten users for the consulting service.
Juice Pooch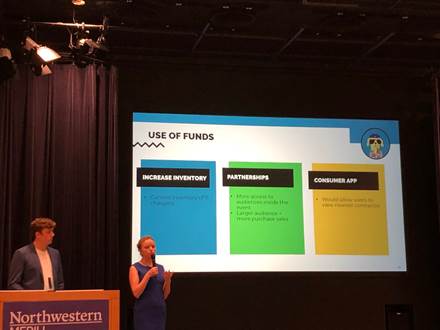 Juice Pooch provides live event attendees with portable phone chargers available for rent and for sale. The inspiration for this company came from personal experiences that several Juice Pooch team members and interview subjects had with dead phones, leading to unsafe situations and a breakdown of communication with loved ones. Juice Pooch contains a network of contractors who are paid through commission on their rentals and sales at these live events. During the course of this class, Juice Pooch tested and gained customers at Northwestern University's Dance Marathon, TedX NU, Snake Pit, The Bean, a Chicago Cubs game, and Dillo Day. All together, Juice Pooch attracted 46 customers and served as a semi-finalist at the Northwestern University's Venture Cat competition.
Loop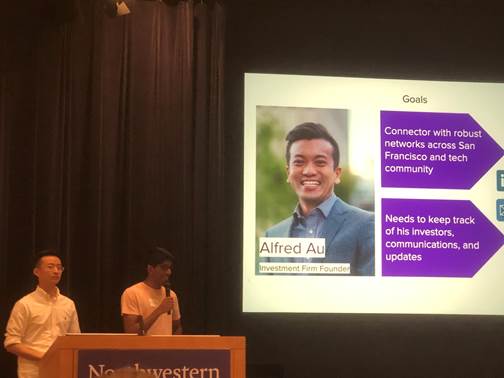 Loop is a professional relationship management tool, allowing users to maintain their networks through an integration functionality with LinkedIn and email. Users will have the ability to monitor the degree of engagement with various contacts, allowing them to surmise whether or not it is time to reach out to an acquaintance. Loop seeks to gain revenue through a premium subscription service. During beta testing, Loop attracted seven users and gained 108,171 social media impressions.
ProFashion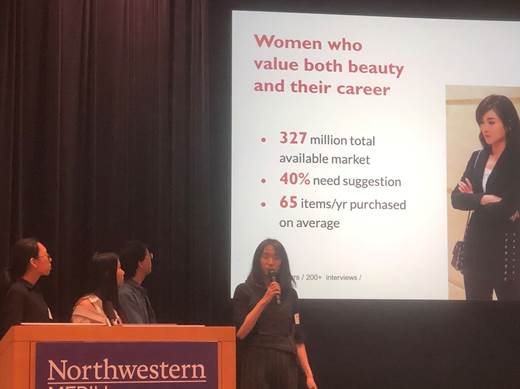 ProFashion provides wardrobe suggestions for young Asian professional women, leveraging artificial intelligence technology to match the contents of a user's wardrobe based off of photographs. This company charges a subscription fee and affiliate marketing commissions from clothing retailers. ProFashion obtained ten beta users and succeeded in uploading 61 items into its database within 48 hours.


Wearever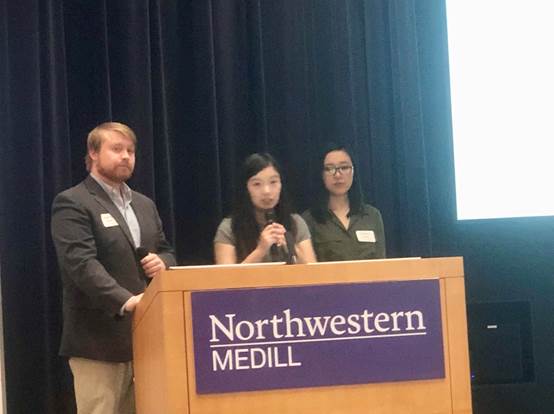 Wearever offers a clothing rental service largely focused on young female travelers, providing stylish and affordable fashion at a fraction of the purchase price. This company's target market within the young female traveler demographic includes fashionistas, Instagram users with 800-10,000 followers, who value how an outfit will look on social media over the brand. Wearever launched successful user testing for the Northwestern University 2019 Commencement, attracting 45 signups and 80 general wait list signups.