Looking Back on 2020
Farley Center Director Hayes Ferguson shares reflections on 2020 and visions for the new year.
The following is a letter from Farley Center Director Hayes Ferguson.
You've heard it over and over again: This has been a year like no other.

That's true for the Farley Center. Our community has faced many difficult challenges in 2020, both within the context of the University and beyond. However, I'm inspired by the many ways our community has stayed connected, supported each other, and innovated through crisis.
Transitioning to Our New Normal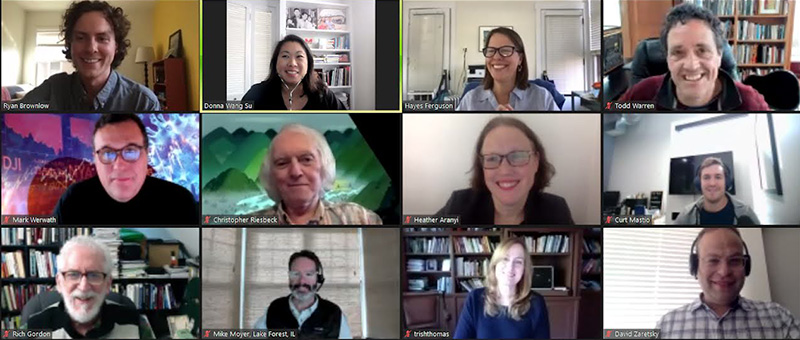 For Spring Quarter, we moved most of our operations to our homes, where our faculty taught and our students studied online. Staff has been working remotely since then also, which means that as I started with Farley in August, I have yet to meet with our administrative team in-person — only virtually.

But while the new normal of 2020 has created challenges — it's tough not to be able to drop by a colleague's office to ask a question — it has also created opportunities. We're a community of innovators and entrepreneurs, including many technologists, who thrive on finding solutions to problems. To this end, we have accomplished a lot this year by iterating old ways into something new, and we are excited about what lies ahead.
Farley Classes in Demand
During the summer, no one knew what to expect for Fall Quarter student enrollment. By early September, the prognosis was good. Based on registration figures to date, Winter 2021 will be even better, with demand for our classes greater than last year's pre-COVID Winter Quarter. 
The increased interest in Farley classes is in part due to our students' continued, thriving entrepreneurial spirit, despite the challenges and setbacks of 2020. It is also due to our faculty and staff, who continue to build and reinvent our programs under difficult circumstances.
The pandemic has changed how we interact with our students, but it hasn't dampened our impact. This fall, I visited every Farley class and was delighted to see how engaged students were in a virtual format. Several faculty members have also reported an increase in students booking office hours. Whether this was due to the relative ease of making a Zoom call, or a greater desire to have a connection with someone "on campus," it was a positive development.
Students and Alumni Thriving in the Marketplace

Our students remained engaged beyond the classroom. Seven Northwestern students and alumni were chosen for ChicagoInno's "25 Under 25" list, more than half coming from our Farley community. And we continue to have students like Ana Cornell, who developed an at-home DNA testing kit, tap into Northwestern resources remotely to move their ventures forward.
Bringing the World to Our Classroom
Another silver lining of remote learning: We were able to Zoom in class speakers from across the continent. Kellogg alumna and Corix Infrastructure CEO Lisa Sparrow spoke remotely from Canada to a Principles of Entrepreneurship class. Lucas Phillips, whose Austin-based BrewBike was founded while Lucas was a Farley student, joined another class for a brief chat. So did Keith Lemur, the CEO of WellNet Healthcare Group, of Washington, DC, and Chris Caren, the Palo Alto-based CEO of Turnitin.
"Zoom has forever changed how guests can interact with our classes," Professor Trish Thomas told me. "I had more guests, but visits were only 15 minutes. Students had time to build a connection and could reach out to speakers after class, but I didn't have to sacrifice a whole class."
We look forward to doing more of the same — and then some — in the new year.
Our distinguished visiting fellow, Vijay Vaitheeswaran, is planning to host virtual fireside chats in the winter with accomplished alumni. A discussion on healthcare innovation is also planned, with Vijay moderating a panel of high-profile speakers from different parts of the country. Stay tuned for more details on these events.
A New Home in 2021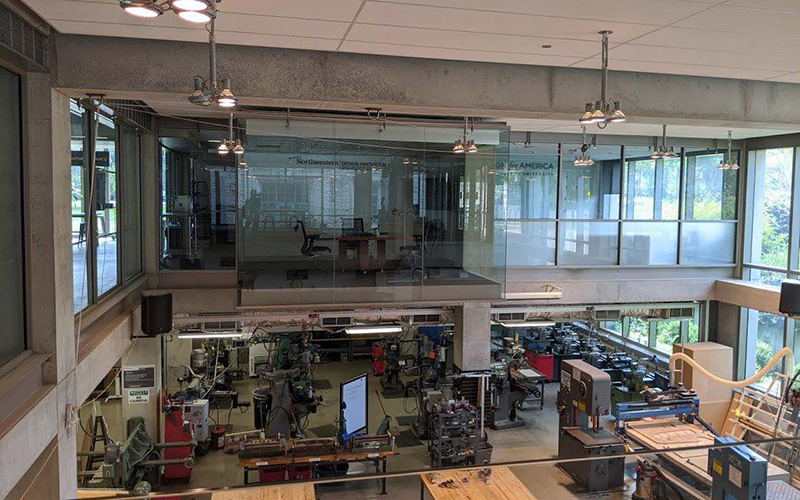 As reassuring as it is to know that we can thrive online, we look forward to being back in person. When that time comes, we will return to a larger, more prominent location than the one the team left in March.
 
Early in the fall, Dean Ottino generously offered us a new, larger space in Ford to the Farley Center. Moving into this light-filled area — almost twice the size of what we had before at 1,430 square feet — means we'll have more room for our students, mentors, and faculty members to collaborate on projects. This transition is an apt metaphor for Farley in 2021: an established center well-poised for its next chapter, no matter where we are.
We invite you to join us on our continued journey, whether that's in person at 2133 Sheridan Road, Suite G-300, Evanston, IL 60208, here at our website, or on Instagram, Facebook, Twitter, and LinkedIn. And we wish you a happy, healthy, and innovative 2021.