Moses Lee, SESP '20 - Class of 2020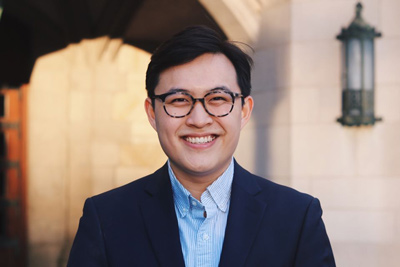 The Farley Center wants to thank and congratulate Moses Lee, a Class of 2020 graduate who has worked at the Farley Center for the past three years. During his time as an intern, Moses supported the Farley Center in a variety of different capacities - from marketing and event planning to photography and graphic design. Moses is a SESP Learning and Organizational Change graduate, Chicago native, and an expert at making Kahoot! Quizzes!
Back in 2018, Moses was featured in the SESP Magazine for "Meet the Lees" as SESP featured him and his sisters as five siblings, five different paths, one school.
Moses was introduced to the Farley Center through his sister, Josephine "Jo" Lee, who not only graduated from Northwestern with a Certificate in Entrepreneurship but also launched EPIC, a student organization that exposes students to entrepreneurship through events. During Moses' time at Northwestern, he also served as President of Willard Residential College, Associate Student Government Community Relations committee, NU Dance Marathon Marketing and Media committee, Form and Function Marketing, Delta Tau Delta Fraternity, German Undergraduate Advisory Board and Project Wildcat Counselor.

Moses also won a Critical Language Scholarship, which allowed him to sharpen his Arabic and learn the Moroccan dialect known as "Darija" while abroad in Tangier, Morocco. When asked about a favorite NU memory, Moses reflected on his experience abroad, where he "spent 10 weeks living with a host family and learned Arabic with students from across the U.S."  He also shared with us one piece of advice that he received from a Northwestern mentor: "How you do anything is how you do everything." He kept this advice in mind while studying abroad, and will continue to hold onto it as he moves into post-grad life. 
On top of his amazing accomplishment, his many talents, he also was the program facilitator for the New Student and Family programs at Northwestern where he led a seven-day backpacking pre-orientation program for incoming first-year students on Superior Hiking Trail in Grand Marais, Minnesota. Combining community and his creativity, he was the Creative Director for Form & Function Marketing where he lead a team to produce creative marketing campaigns for local Evanston businesses. His background also includes being an Information Security Intern for HUB International where one of his projects included redesigning information security deliverables to reduce the threat of external phishing attacks on employees.
At the Farley Center, he served as our Curriculum/Events Intern where he helped organize our first Creative Tech competition and showcase in 2019, which was supported by a Murphy Society award and Dean Julio Ottino. You can see how Moses was typically behind the scenes with a camera capturing details of the event. He has been a tremendous asset to our Center and we're going to miss him greatly. All the best to you, Moses Lee '20!!