NUvention Energy Winter 2020 Recap
Farley's NUvention courses are key to the center's goals as it exposes students to the entire innovation and entrepreneurial life cycle through hands-on application. ENTREP 474:NUvention: Energy, is the product of a collaboration between the Farley Center and the Institute of Sustainability and Energy at Northwestern. On March 10, 5 student groups from the course presented their work at the Tech Nexus building in Chicago.
QGC (Quality Gradation Control)
Pratul Patel, Biser Velkov, Luca Podrecca

Today, 10% of material mined in US quarries is wasted, and 30% of that waste occurs during the aggregate crushing process. QGC has developed an IoT solution that optimizes aggregate-crushing machinery. QGC's sensor and algorithm help quarries reduce waste, decrease equipment wear, and save money and energy.
BluSolar
Aran Mehta, Shitong Xiong, Esteban Panaget, Sangram Rout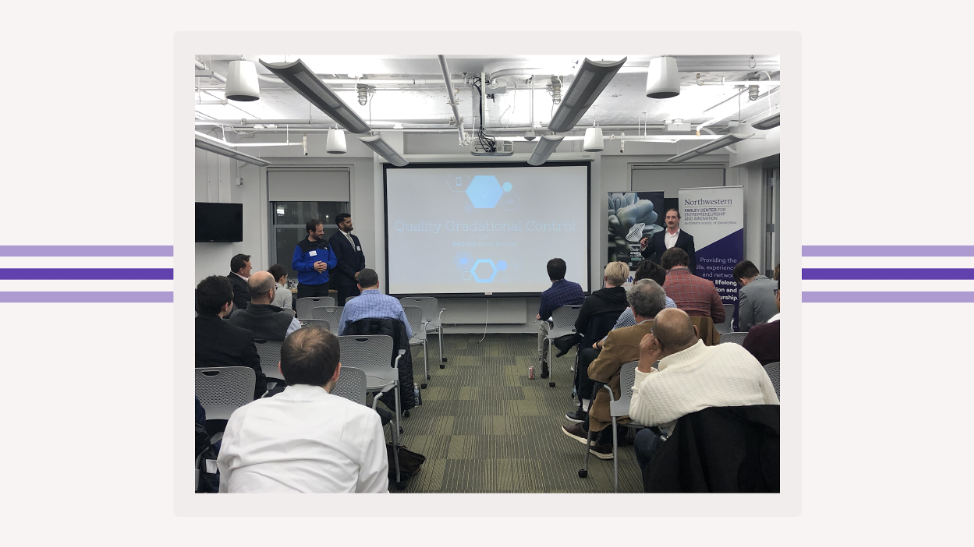 BIPV (building-integrated photovoltaics) has the potential to revolutionize solar energy, but faces major efficiency, transparency, and durability challenges. BluSolar plans to develop and license a quasi-random nanostructure that, when imprinted on the back electrode of a PV panel, is expected to increase BIPV efficiency by 25-30%. BluSolar's nanostructure is based on Northwestern IP related to using the nanostructure of Blu-ray discs to improve PV. In addition to BIPV, BluSolar envisions applying their technology to IoT sensors and wearables.
WaterG
Daniella Mostow, Emilie Lozier, Raghavendra Pai, Steven Singer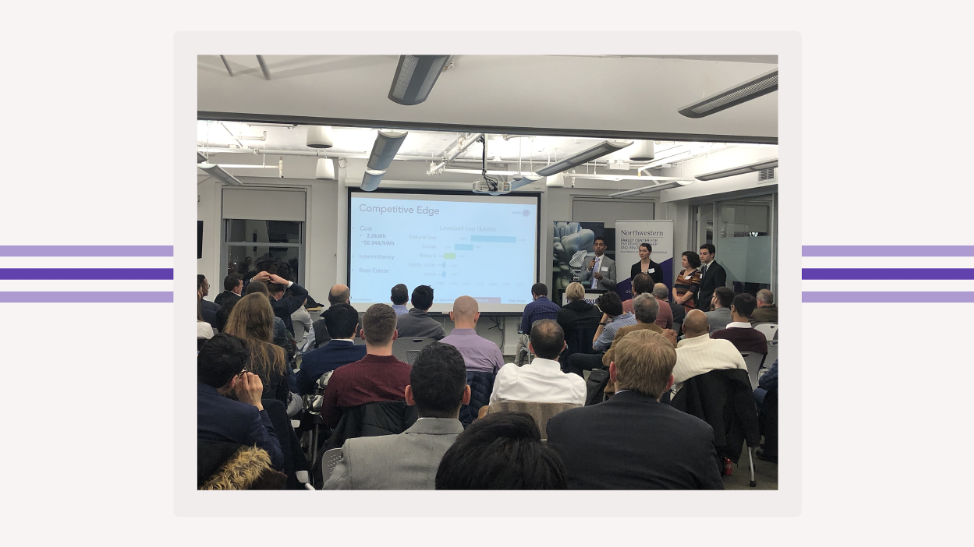 Oil rigs require constant power, and new regulatory pressure and green initiatives are encouraging oil companies to seek out environmentally-friendly options. WaterG has a wave energy solution that is more reliable than wind and solar energy and is backed by Northwestern IP. Wave energy has historically been cost-prohibitive, but WaterG's thin-film solution is cheap to produce, operate, and maintain.
NuNode
Troy Daley, Linggang Jiang, Joshua Kim, Kyle Owen, Gabrielle Stein, Cesar Villa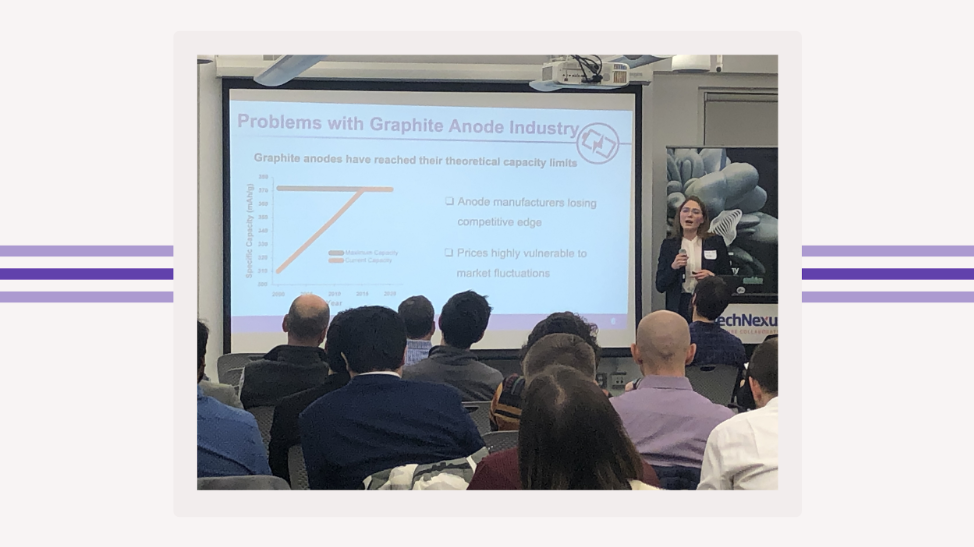 The rapid proliferation of IoT devices has created demand for batteries with a high capacity and long lifetime, but traditional graphite anodes have reached their theoretical capacity limits. NuNode's solution is a transition metal oxide enhanced graphite anode that can increase battery capacity by 300% while reducing cost by 250%. The material, developed and patented by Northwestern, can be produced efficiently using a flow reactor and would be a drop-in material for current battery supply chains. NuNode has qualified for the 2020 Rice Business Plan Competition.
Nitricity
Nitesh Bajaj, Yijing Chen, Max Leonard, Austin Plymill, Brian Seavitt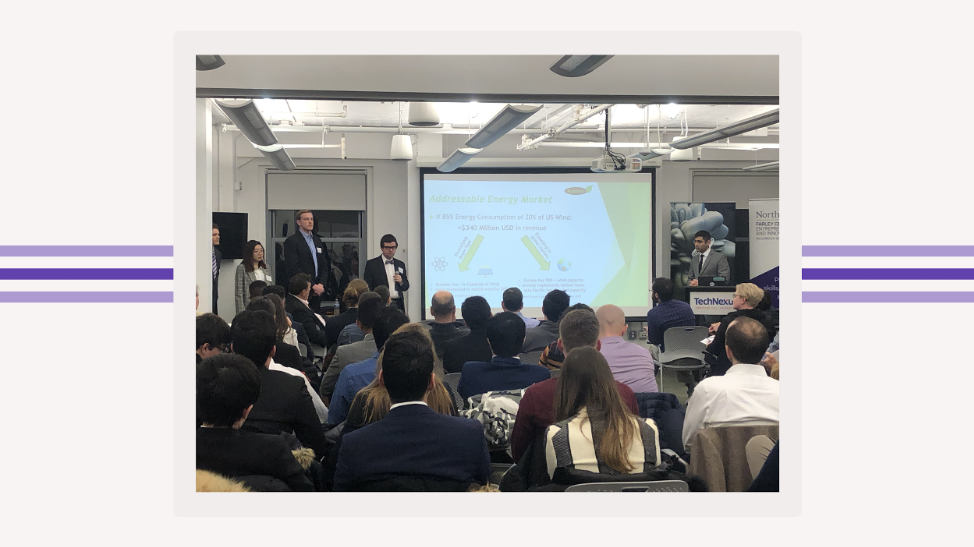 Wind farms in agricultural regions often produce excess electricity or have to curtail generation due to lack of demand. Nitricity's patented electrochemical cell technology can convert this excess electricity, plus air and water, to usable ammonia. The ammonia can then be sold to local farmers for use as fertilizer, cutting out transportation and distribution costs associated with centralized Haber-Bosch ammonia production.