NUvention Medical Winter 2020 Recap
Farley's NUvention courses are key to the center's goals as it exposes students to the entire innovation and entrepreneurial life cycle through hands-on application. NUvention: Medical is a two-quarter interdisciplinary experiential learning program that aims to expose students to the entrepreneurial lifecycle of new medical technologies. On March 11, 8 student groups from the course presented their final work.
Sovalis
Sovalis is a heart failure-focused software platform that provides consumers with access to a virtual multidisciplinary care team. The platform removes barriers to information by providing consumers with vital tracking, compliance incentivization, and access to proprietary algorithmic decision-making to reduce readmission rates and lower the total cost of care.
BYEstrep!
BYEstrep! is an over the counter, user-friendly device that allows patients to test themselves for Strep throat and obtain an easy-to-read test result which can be analyzed through a telehealth application.
HipLo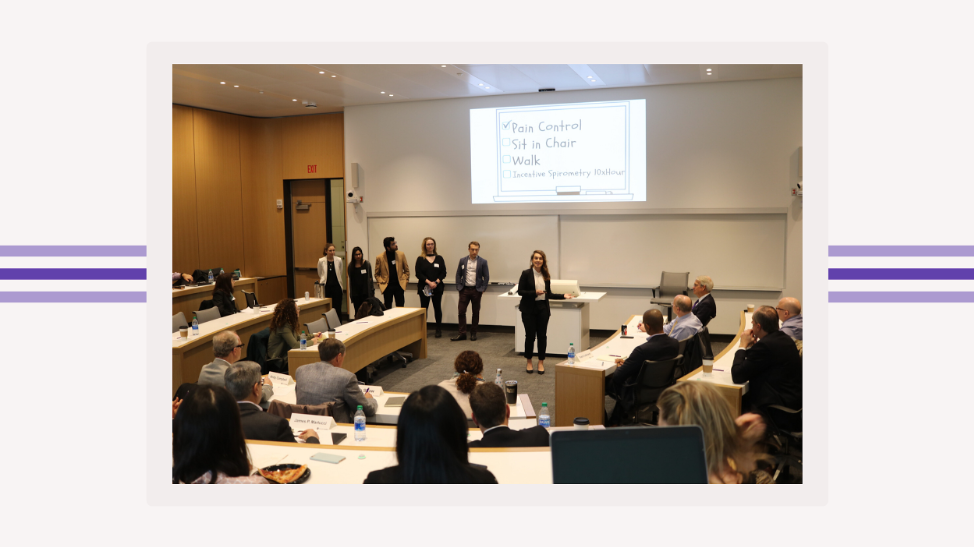 HipLo is a non-invasive wearable device designed to facilitate safe recovery and rehabilitation for patients after hip replacement surgery. This ergonomic monitoring device provides guidance, reassurance, and a sense of independence, while reducing painful and costly post-surgical complications.

InSPO

InSPO is a digital health startup focused on increasing patient engagement in their post-operative care by digitizing adherence to incentive spirometer devices. By increasing post-operative adherence, InSPO reduces healthcare costs and improves patient outcomes.

s

Equus is a patient-centered pressure management system that leverages a continuous movement monitoring solution to optimize a reminder schedule and improve adherence with prescribed pressure relief exercises.

Scio
Scio has developed a minimally invasive implant used in tube shunt therapy to treat Primary Open-Angle Glaucoma. The innovative solution reduces surgery time, post-surgery visits, and failure rates.
SleepOne
SleepOne has developed a user-friendly CPAP solution that utilizes complementary technologies to eliminate major drivers of non-compliance among sleep apnea patients, enabling patient mobility in a portable, comfortable breathing device.
Stroll
Stroll is an affordable remote fall prevention solution that provides peace of mind. Stroll's discrete devices enable caregivers to make better care decisions by detecting falls, monitoring device usage, and encouraging safe mobility practices.