NUvention Web + Media Winter 2020 Recap
Farley's NUvention courses are key to the center's goals as it exposes students to the entire innovation and entrepreneurial life cycle through hands-on application. This winter marks the first quarter of ENTREP 473, or NUvention: Web + Media, a two-quarter capstone course where students design, plan and run web-based businesses. On March 11, 9 student groups from the course presented their work thus far in creating their own startups. Also in attendance was members of the course's advisory board, which consists of around 40 founders or directors of recent startups.
CHORUS: Local Music in Harmony
This team built their project around the challenges with trying to get into the local music scene. Specifically, they follow Eric Chial, owner of a Chicago watering hole Montrose Saloon. While they offer local breweries and live bands every night, Chial struggles and works 30-40 hours just booking, scheduling and organizing bands. Chorus could be the solution.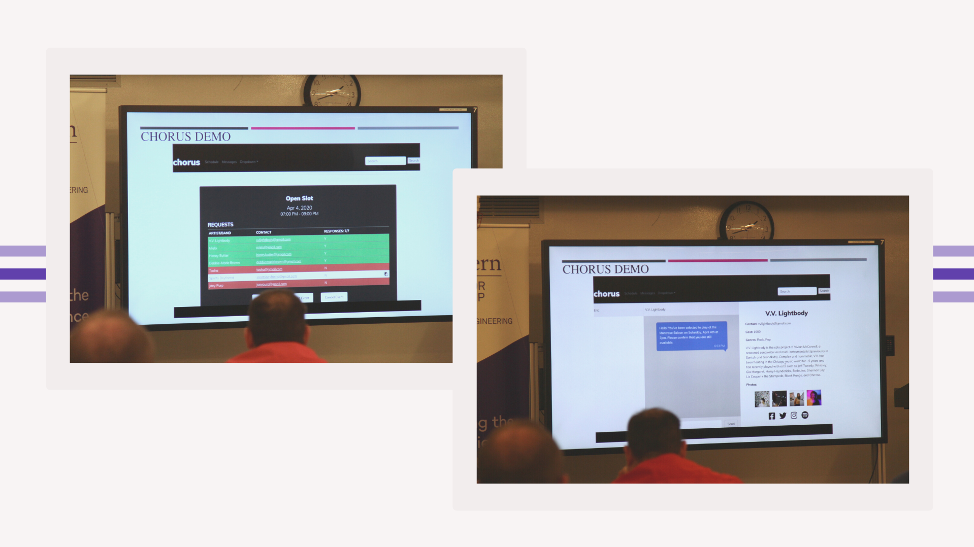 Acting as a link between venues, bands and users, Chorus consolidates and simplifies the local music scene by providing a platform that allows venues to easily find bands, bands to easily find performance opportunities, and users to easily find upcoming performances. Some features include a user-friendly calendar, band discovery and profile data, auto-populated social sharing, and an integrated two-way communication with customizable templates.
PICK-A-PLACE: Helper in Planning Group Meals
It can often be a huge hassle for someone when they plan on hosting a group meal. Not only do they have to account for people's schedule conflicts, they also have to account for their food preferences as well as a suitable location. Even after the meal is planned, hosts may often worry if their guests are enjoying their time and the meal.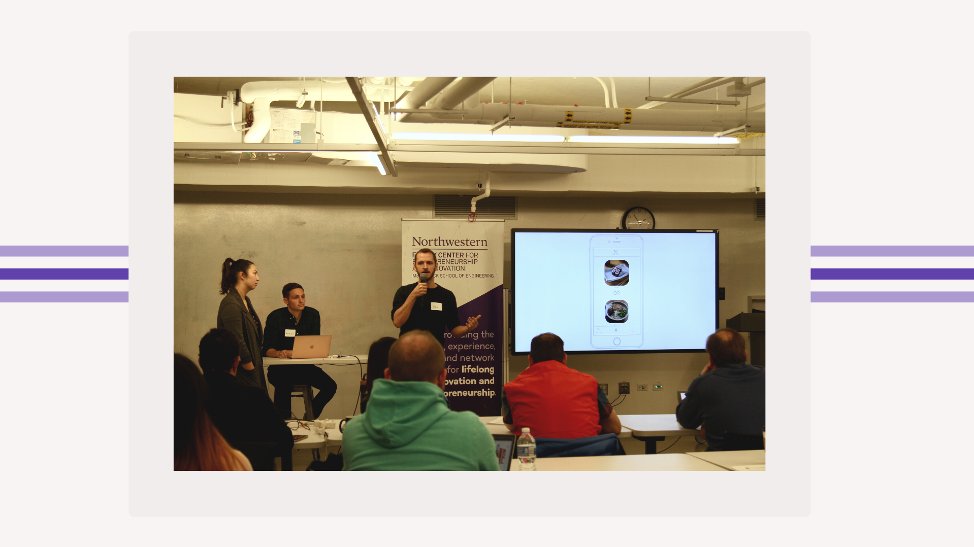 Pick-a-Place makes this process more efficient and relieves the pressure placed on the host. Using a game-based design, itt will ask questions based on individuals' budget, dietary needs, and preferences on food choices. The host can simply send this into a group chat, then receive app-based recommendations for restaurant options based on everyone's responses.
HOMECARE: Healthcare Management at Home
In families where there are members who need special care, it can often be difficult to know if someone else has already completed the task. Tasks can often be forgotten and it can be time consuming to have to constantly check in through text. This is where Homecare comes in.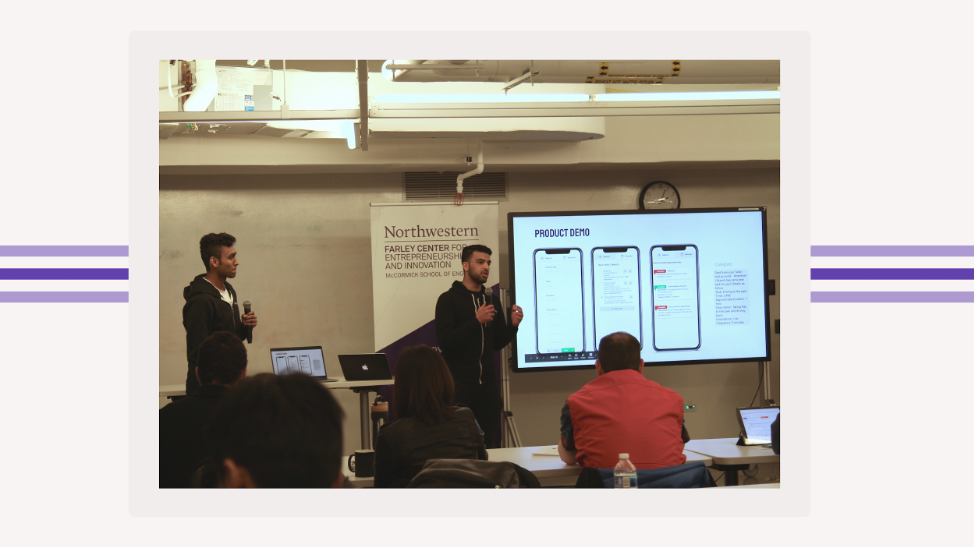 With features like task delegation, calendarized recurring tasks and automated text reminders, families can more easily and more effectively manage healthcare at home.
BORINGSTUFF: Management App for Artists
Early stage career artists often struggle with imbalance of traffic and connections when selling their art, due to the presence of different platforms and abundance of information. While some artists may use resources like Microsoft Excel or physical notebooks to manage inventory, it can be difficult to be efficient using those methods, especially when inputting images is hard.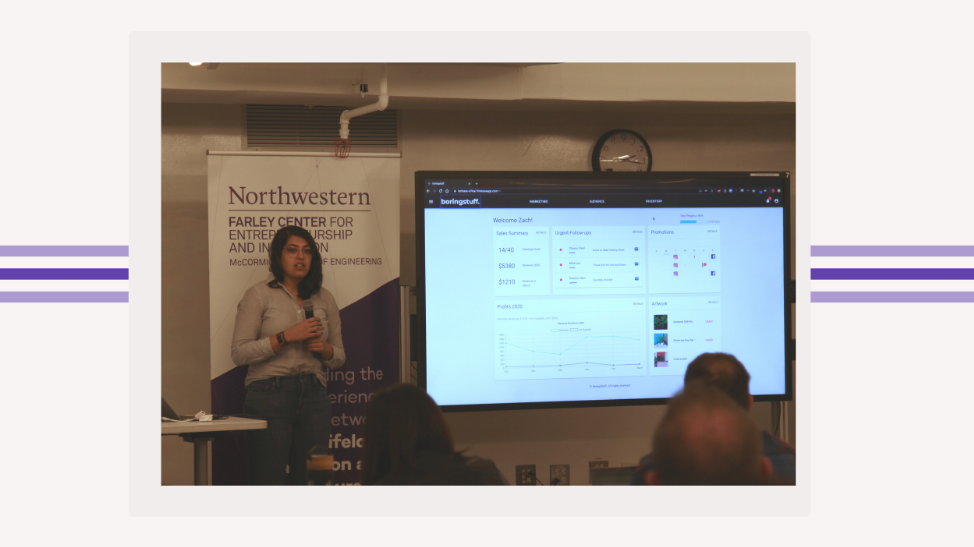 Boringstuff offers a management platform for artists that consolidates the process of managing inventory so artists can focus on the actual art. Some features include promotional calendars for social media marketing, sales summaries, profits, and inventory management.
WEFIT: Bringing Social to Fitness 
A common trend in people maintaining their fitness goals tends to be in making it social as well. WeFit aims to do that by creating a platform where people with common fitness goals can interact with each other, motivate each other, and keep each other accountable.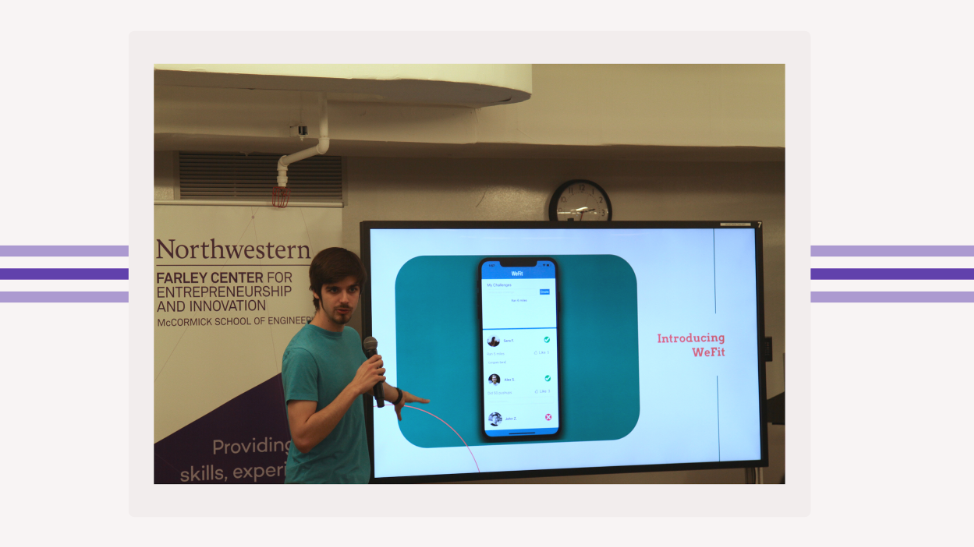 Some features include being able to post and update statuses to keep users and friends accountable to goals. Users will also be able to see their friends' latest workouts and congratulate them on successes, almost like a LinkedIn for fitness.
MEDIUS: Collaboration Marketplace for Filmmakers
While there is a huge demand for global, online video content and high levels of supply of people producing that content, it can be difficult to find the right people to collaborate with. People are mostly constrained to their physical networks, and the engagement when they do think of and find someone typically occurs through multiple networks.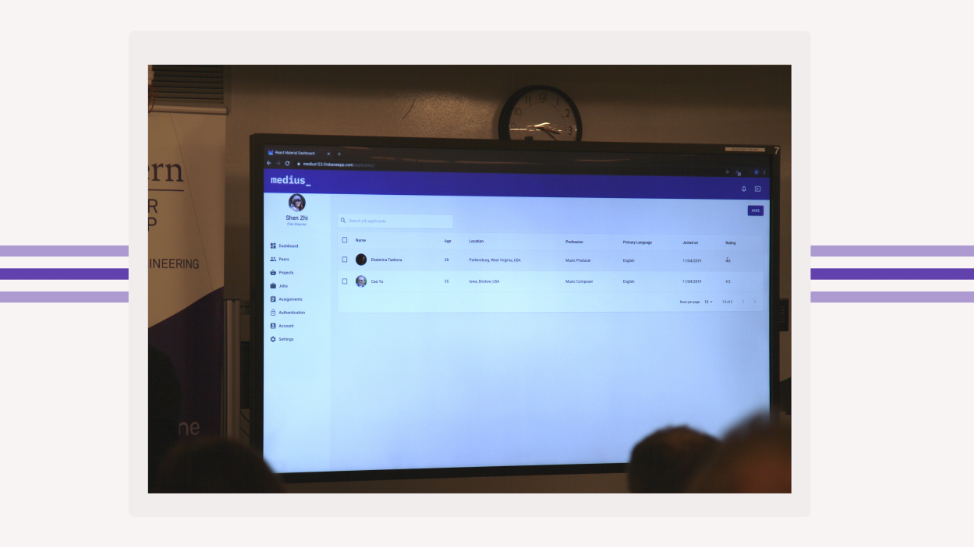 Medius creates a platform for filmmakers to collaborate easily and effectively. Not only does it expand people's once limited networks, but it also offers an integrated solution where filmmakers can shop to source, connect, transfer work, and pay co-creators all in one place.
MATCHIC: Interactive Online Shopping Experience
When making online purchases, people often like to ask their friends for advice. But this can get messy, especially when they look for advice from multiple people or when it involves items from different stores. Matchic is a way for shoppers to collect items they're considering and share it with their friends.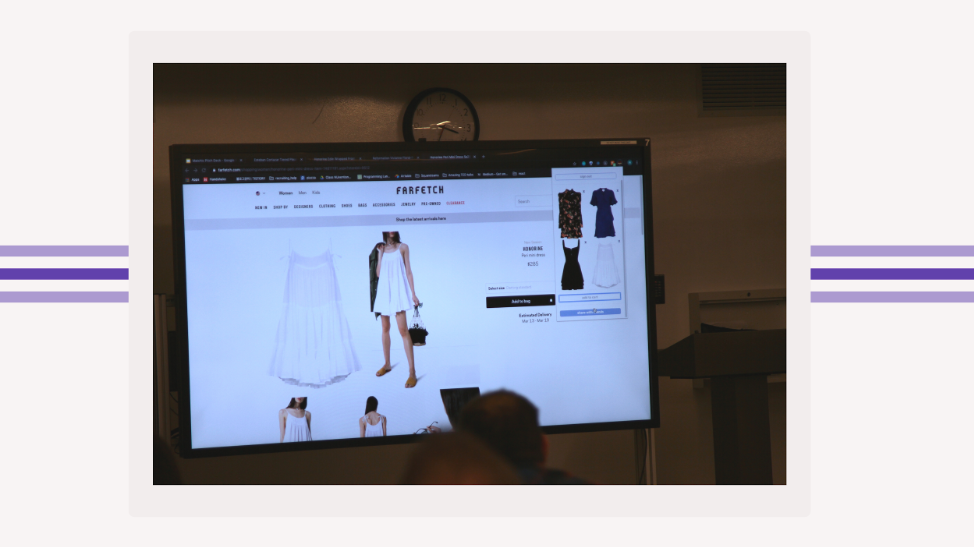 In the form of a browser extension, Matchic offers an easy way to send the items that a shopper is considering to their friends through a text. Then, those friends can vote and a mobile app page with voting results will be displayed for the shopper to consider their friends' opinions in a holistic and easy-to-compare way.
BENE: Health Travel App
It can often be stressful for travellers to receive medical care when they are in a foreign country with different health policies and medication, especially when there may be a language barrier. It is also a source of stress for medical care providers because travellers don't have local insurance and it can be dangerous or risky if they take incorrect dosages.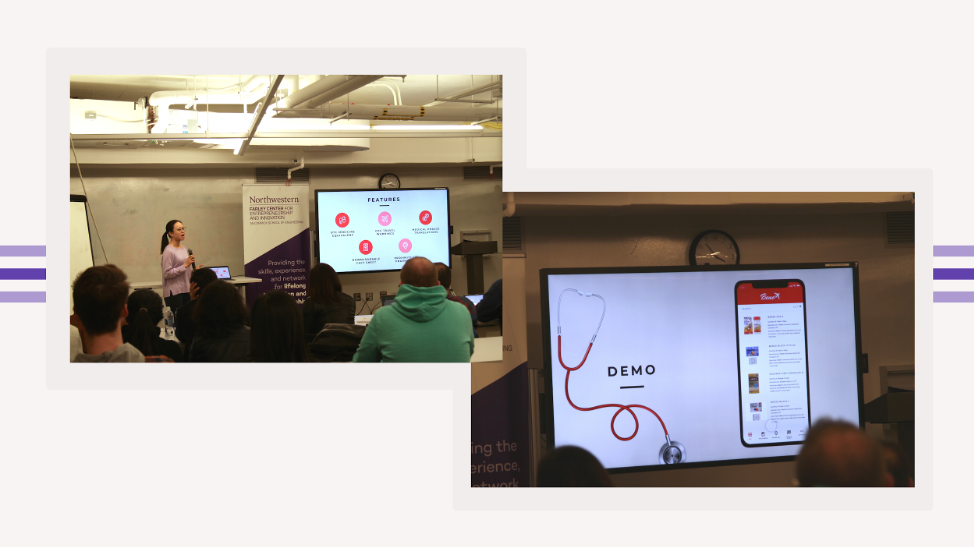 Bene is a health travel app that solves the struggles that come with getting sick while on vacation. It includes translations of common phrases to use when facing a situation where medical attention is needed and downloadable fact sheets based on medicines that may be similar to ones users already know about from their local country.
TENDON: CRM for Independent Physical Therapists
A patient's relationship with their physical therapist is extremely important, but this can be a challenge especially when it's hard to keep track of personalized exercises and tasks to be done. It can also be difficult for the therapists to remember patient details when making conversation and building rapport.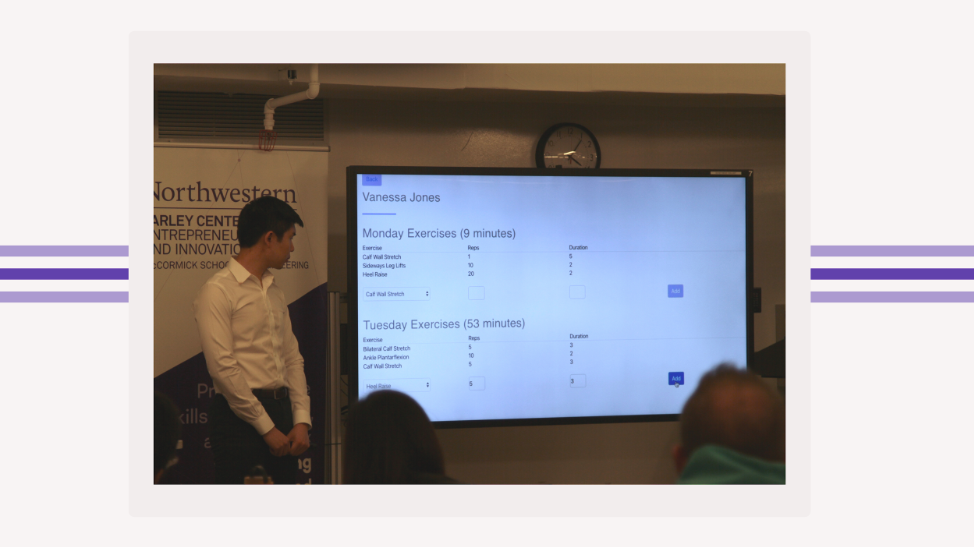 Tendon provides a platform to foster the relationship between a patient and their physical therapist. Some features include a space for the therapist to share video exercise instructions and a clear list of the patient's daily regimen guide. There is also built-in instant messaging, quick-access notes of patients' conversations for the therapist, as well as a simple patient referral system.