Thanking Prof Verinder Syal
Verinder Syal - Professor of Entrepreneurship and Leadership at Northwestern University, Mentor, Advisor, Author, Consultant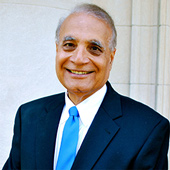 Professor Verinder Syal, author of Discover the Entrepreneur Within, has taught at Northwestern University since September 2006. For the past decade, he has taught ENTREP 225: Principles of Entrepreneurship, ENTREP 331: Leadership, Ethics and You, and ENTREP 395: Making Your Startup Market Ready. His classes have always filled quickly, and there is a tremendous cohort of alumni who took his classes and benefited from his mentorship. Last week was his last official class with Northwestern University and we wanted to thank him for his years of teaching and service.
Professor Syal, or "Prof" as he is known by his students, describes himself as "I am a lifelong learner, and teaching is just an important means of acquiring new knowledge. While teaching students the fundamentals of entrepreneurship and leadership at Northwestern University, I challenge my clients to develop a clear focus and strategies so as to elevate their efforts to new heights. Along the way, I learn from all of them."

Professor Syal is also an author. Describing his purpose for writing a book on entrepreneurship, Professor Syal has stated, "Because my schedule allows me to teach but once a year, I've written a book for my students
and those who are unable to attend my class. "Discovering The Entrepreneur Within" demystifies the entrepreneurial journey with a step-by-step guide to bringing your idea to life.

After working at the helm of small and large companies alike, I want to help others do what they love with Thoughtful Simplicity, which is both my ethos and consultancy business. Our equation is simple: Vision + Culture + Execution = Fun + Success.

Most companies can improve their performance significantly. The missing key elements are often a coherent strategy, a collaborative culture, and a focus on execution.

We will help you cut through the complexity and help you develop a 2-page Vision Execution Tracker that will hone in on what is truly important. Having been a CEO, I bring a top-level perspective and help leaders focus on what is truly important. A clear vision and strategies, along with the right culture and a laser-like focus on execution is a good recipe for significantly improved performance."

"Verinder recently led our teaching team where we hosted 25 entrepreneurs from 23 different African countries...They left after 6 weeks truly transformed." - Professor Mike Marasco, Founding Director for the Farley Center for Entrepreneurship & Innovation, Northwestern University
Prof was well liked and a staple course within the Farley Center for the past decade. When asked to describe him, his teaching style and what they learned, students from past to present shared the following words (this is just a sampling from the 100+ responses that we received):
"His obsession with the quest to dig deeper has  rubbed off on me and has been a guiding principle ever since"
"His lessons and assigned readings will be carried with me for the rest of my life, and I am grateful to have had an educational experience worthy of lifelong preservation."
"Years after the course and graduation, I am grateful to have been a part of those touch conversations that gave me a new perspective and pushed me to explore myself and my values."
"What made Prof's classes so amazing was not necessarily even the course material, but rather the truly genuine interest he took in each student, especially with the lessons about responsibility and reliability."
"From being a student, pitching a company idea, to now speaking to his students as a successful entrepreneur, it's been an honor to witness and learn from Prof as a leader in the classroom"
From Professor Syal's LinkedIn page, he shares of his experiences, specialities and education.

►EXPERIENCE
I have run small and large companies and started one from scratch. I love learning, teaching, helping, and doing.

• Large company experience - Quaker Oats, Golden Grain, Stella Foods
• Small company experience - Filterfresh of Chicago, Rymer Foods, Syal Consult / Thoughtful Simplicity
• Faculty, Northwestern University
• Guest lecturer in various forums and universities

SPECIALTIES:
• Improved profitability
• Cut through the clutter, Clear Focus
• 2-Page Vision Execution Tracker
• Clear Values 
EDUCATION:
• MBA in Finance, International Business from the University of Michigan, Stephen M. Ross School of Business
• BE in Mechanical Engineering from Maulana Azad National Institute of Technology

We thank the Prof for his many years of mentorship, dedication, and leadership as the Northwestern community has benefited greatly from his presence.