How Product Development is Shaping the Future of Journalism
New York Times' Emily Withrow discussed how media companies increasingly rely on engineering, design, and data science
April 20 was a big news day for the New York Times. Derek Chauvin, former Minneapolis police officer, received his verdict. Behind major news events like this one, a team of product developers behind the scenes collaborate with the newsroom to design ways to package and spotlight breaking news on the Times' homepage so audiences could feel the impact of the moment.
Emily Withrow, vice president of product at the Times, says her team is always preparing for moments like these.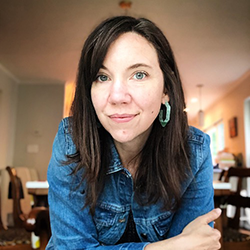 Minutes after Chauvin's verdict was declared, Withrow joined the Farley Center for Entrepreneurship and Innovation and Medill School of Journalism, Media, Integrated Marketing Communications for a Fireside Chat and shared insights from her experience working at one of the nation's top media companies during a historic moment. She also discussed how product development is shaping the way news is delivered and consumed.
To Withrow '06, former Medill assistant professor and alum, technology has fundamentally changed the way we behave. Media organizations, she said, are trying to understand how news can and should fit into these new behaviors.
"If you are in line at a coffee shop and you have 15 seconds to check your phone, how do we fit and meet those 15 seconds and get you what you need in that moment?" Withrow said. "My motivation is in making sure news is available and fits into the lives of anyone."
Understanding audience is part of this motivation. At the Times, Withrow leads a team called UX Foundations, a cross-functional product team whose focus includes personalization and understanding how to anticipate user needs in order to "meet you where you are, with the information you need, the way you need it, in that moment," she said.
"Audience was not something that was a real fixture in newsrooms for a really long time," she said. "We are now at a moment with technology where we don't have to approach that audience as a monolith. We can look at individuals. If this is the morning that you woke up and said, 'Today is the day I'm going to engage with what's going on in Afghanistan,' your need in that moment is really different as someone new to that story from someone who's been following it every day for 20 years."
How does the Times know what its readers are consuming? On Withrow's team, data scientists, designers, and other engineers work with data sets to better understand its users, design personalized user experiences, and move away from a one-size-fits-all news approach. As a mission-driven organization not using third-party data, the personalization problem becomes harder to solve, but is in some ways more interesting, Withrow said.
Prior to working at the Times, she led research and development at Quartz, a startup digital news outlet. Transitioning from a scrappy media startup to a 170-year-old institution has highlighted their differences. At the startup, she wore many hats, abided by fewer organizational rules and boundaries, and quickly launched multiple products and initiatives. At the Times, change happens at a slower pace, but she has far more resources to work with, she said.
The willingness to take chances is what makes Withrow an innovator at the Times and in her career. In response to a question from a student about how to focus their career path, she said, "You never have to decide. That's the secret. I've been changing directions ever since I entered the field. It's an industry that's in a deep state of upheaval, so there's a lot to be explored and worked out.
"My advice is to lean into the problems that you can't let go of. The ones that you keep mulling over. If you have that drive, I would lean in there," she said.