How to Be Entrepreneurial and Innovative During a Crisis
Time and time again, history has shown innovation flourishes during times of crisis.
Crisis inevitably creates problems that require solutions. And finding solutions to problems is what entrepreneurship and innovation is all about. 
Looking back at modern history, innovators have made discoveries, pivoted their businesses, or even stumbled upon new product ideas as a result of problems created during times of crisis. Northwestern students and faculty have also developed new ideas in response to challenges such as the COVID-19 pandemic.
The keys to being innovative during a crisis are having the mindset to seek solutions to problems and being willing to pivot ideas into new iterations.
History shows times of crisis spark innovations
Many innovations were born during a challenging time in history, sometimes by accident:
Canned food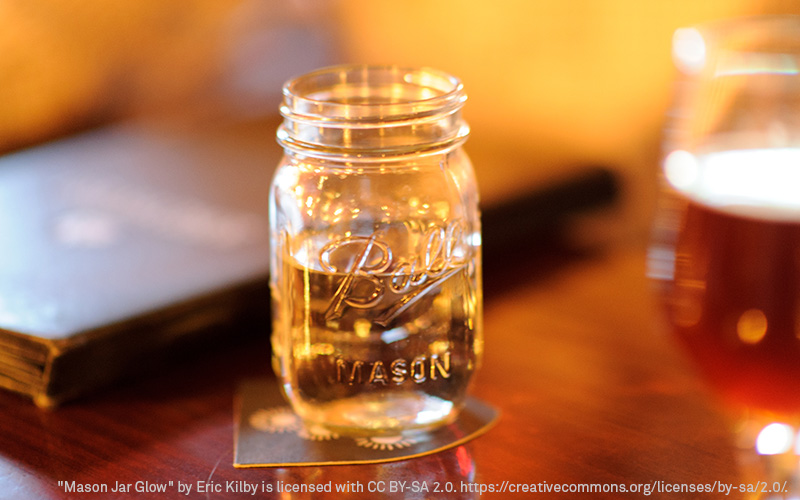 In the late 1700s, Napoleon needed a more efficient way to transport food to his troops. He set up a contest that challenged people to come up with the most innovative solutions — a kind modern-day crowdsourcing — to help him figure out a solution. A Parisian chef took him up on this challenge by sealing food in jars and boiling the jars. This invention led to a number of iterations, including mason jars and tin cans, that are now widespread and used in ways that would have been unimaginable 200 years ago. 
Car radio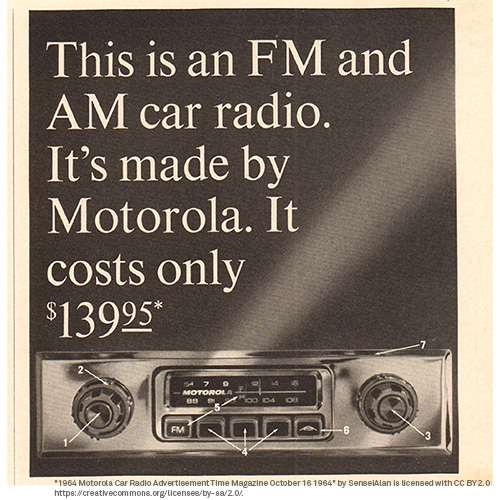 During the Great Depression, a pair of entrepreneurial brothers named Galvin bought the bankrupt Stewart Battery Company's battery-eliminator plans and manufacturing equipment and launched Galvin Manufacturing Corporation. But as battery eliminators became obsolete and the economy worsened, they knew they needed to pivot. They saw growth in the automobile and radio technology industry and partnered with another Illinois company experimenting with radio technology. The Galvin brothers pivoted their business to develop an affordable radio that could be installed in cars. The product was called Motorola — "motor" for car and "ola" for sound.
Silly Putty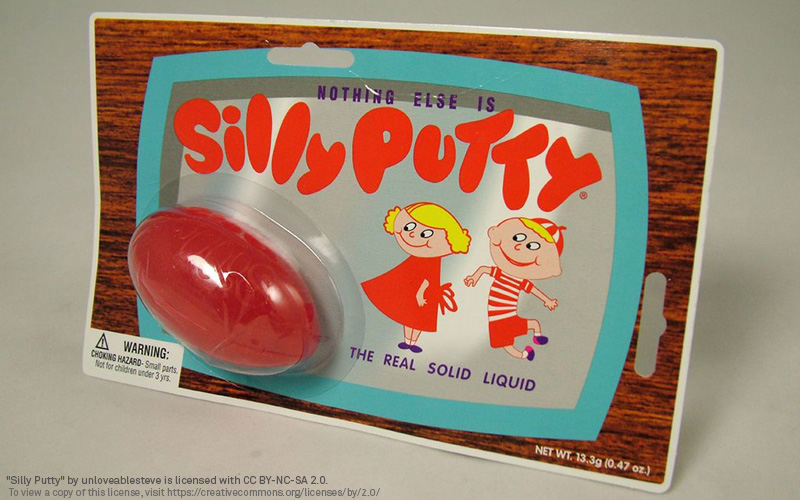 In WWII, a shortage of natural rubber prompted many scientists to try to develop rubber substitutes. During a test on silicon oil in 1943 at General Electric, an inventor named James Wright added boric acid to the substance. The result was a messy, gooey blob that could bounce. Wright's creation didn't work for wartime, but it became one of the most successful toys of the century: Silly Putty.
Northwestern faculty and students innovate during crisis
During the COVID-19 pandemic, faculty and students have found many ways to respond to the global health crisis. Some pivoted their research to meet new healthcare challenges. Others developed new technologies as classes moved online.
Below are just a few examples of the ways the Northwestern community innovated:
Lightboard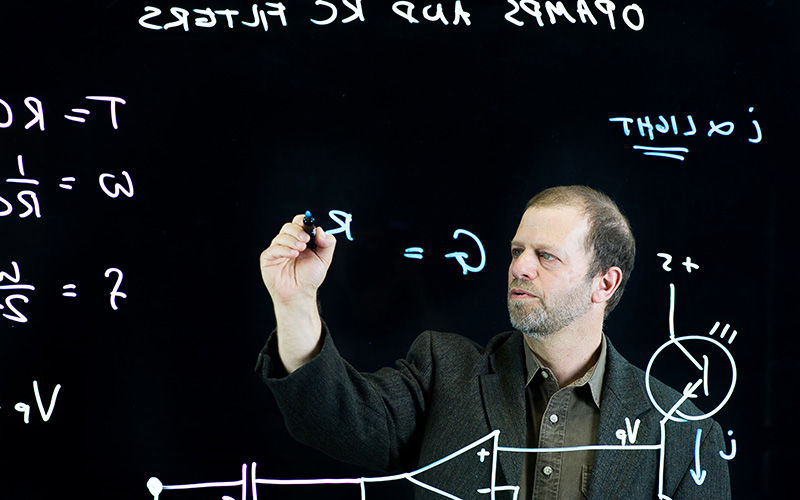 When the pandemic prompted Northwestern to move to remote learning, faculty and students needed to adapt quickly. By summer, the University wanted to iterate on lessons learned during Spring Quarter. The pandemic was not a short-term situation. How could the virtual classroom be enhanced beyond pointing a camera at a professor?
Michael Peshkin, professor of mechanical engineering and Breed Senior Professor of Design, developed the Lightboard Studio several years ago to address his need to create visually stimulating videos for his students. In 2020, there was tremendous demand for the technology, which illuminates hand-drawn information and allows teachers to use class time for valuable interactions.
Ventilators for COVID-19 patients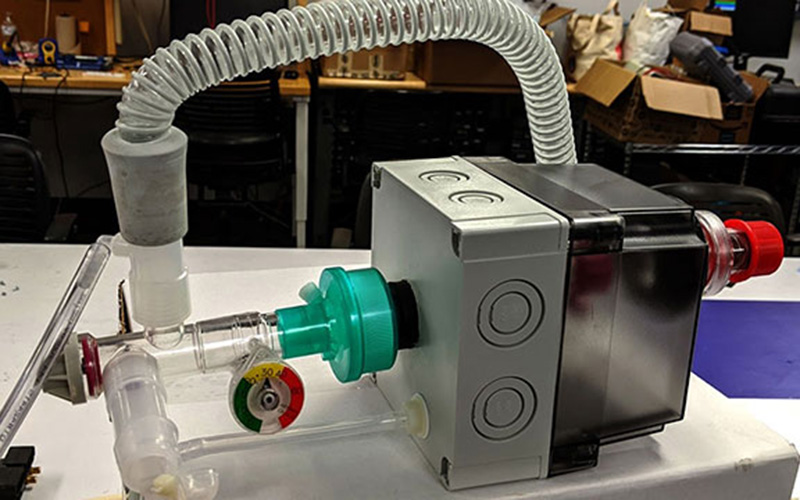 Peshkin is a serial entrepreneur with multiple innovations that have been in the spotlight. Together with mechanical engineering professor J. Edward Colgate, he and a team of Northwestern Engineering researchers retrofitted a common commercial emergency ventilator into a device better suited for COVID-19 patients.
At the beginning of the coronavirus pandemic, high-cost ventilators were in short supply. Commercial ventilators were more abundant, but they weren't safe for a patient's lungs. Colgate and Peshkin's solution gave physicians the finer, variable control needed to ensure patients wouldn't endure lung damage.
Sanitization products for childcare centers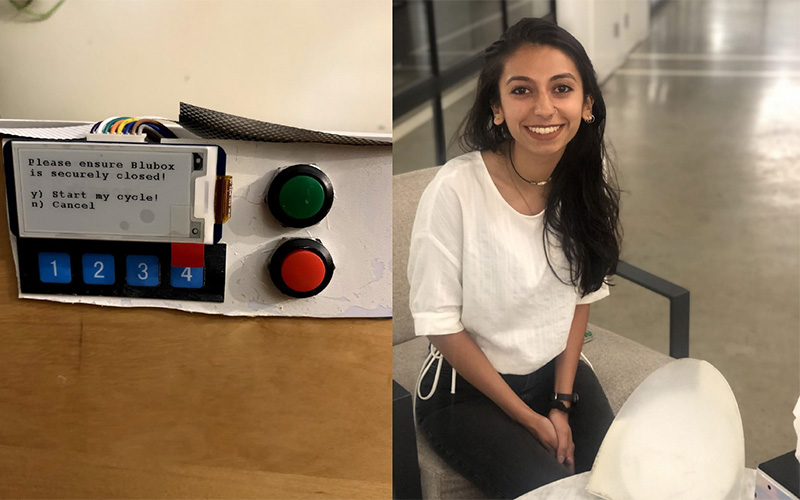 Tarushi Sharma, a medical student at Northwestern's Feinberg School of Medicine, is developing a product that quickly and efficiently sanitizes heavily used items in childcare centers. During the pandemic, she hasn't been able to test the product — as many childcare centers are closed — but the pandemic has highlighted a widespread need for a solution like Sharma's. Sharma is working on her product during quarantine and plans to test it once it is safe to do so.
Pivoting is crucial to the success of innovators
The common thread running throughout these innovations is the willingness to pivot. 
Pivoting is a skill the Farley Center for Entrepreneurship and Innovation emphasizes in its programming. Oftentimes students will have an idea they're wedded to. But as time goes on, the idea may morph and shift to solve another or entirely new problem. The ability to let go of the original intention of any given idea and adapt to changing environments is crucial for the success of any innovator.
Take it from three companies that started as one idea, pivoted, and are now household names: 
The Point — This crowdfunding website morphed into Groupon, which was founded by Northwestern alumnus Andrew Mason.
Odeo — What started out as audio content for MP3 players went on to become a company called Twitter.
Burbn — What started out as a website made to connect with friends to make plans eventually became Instagram. 
Times of crisis bring out the innovator in us all
Though Northwestern faculty and students have access to many resources necessary to develop their innovations, many people around the world may not have the same types of tools at their fingertips. And yet, we see innovations happening all the time.
During the pandemic, people adapted to working and learning from home. Meetings pivoted to Zoom, home offices sprung out of laptops perched on bookstacks, and living rooms transformed into elementary school classrooms.
Businesses have responded to crisis by finding new ways to survive. Restauranteurs in Chicago are using igloos that keep patrons warm while dining outdoors during the winter. Curbside pickup and online sales have boomed. Theaters and music venues have created streaming virtual events to produce ticket sales. 
These innovations were created to solve an immediate problem, but many may continue on past the pandemic.
We challenge everyone to think of ways in which crises have created problems in your daily life, and how you've innovated your own solutions. Share them with us at farley@northwestern.edu. You never know — it could be the next big innovation.