Inventive Thinking Takes Place in the Liquid Space Between Building and Dreaming
Innovation strategist Gary Zamchick explored how passion-mapping and loosening up our thinking can help us creatively manage disruption and rapid change
Learning how to loosen our imaginations and get in touch with our authentic passions can unleash the potential for new discoveries. The ability to be nimble and open-minded is especially crucial for budding entrepreneurs and designers. Innovators who rely on the principles of inventive thinking are better able to collaborate with different perspectives and build meaningful and valuable solutions.
During the Farley Center for Entrepreneurship and Innovation and Segal Design Institute's April 14 event "Inventive Thinking: Building, Dreaming, and Loosening the Space In-Between," innovation strategist Gary Zamchick shared ways students can tap into their inner "inventive thinker" and leverage their interests and life experiences to create new ideas.  
Zamchick is a self-described "envisioner" with more than 30 years of experience in design, technology, and business environments including AT&T Labs Research, IBM, and Push Pin Studios. He is an adjunct professor of computer science at Columbia University and served as strategic designer in residence at Cornell Tech. He also illustrated the best-selling humor book series French for Cats, designed innovation labs for Coca-Cola, and is co-founder of WordsEye, a technology startup building a first-of-its-kind application that conjures 3D scenes from written descriptions. 
Though his career isn't linear, Zamchick said the common thread running through his work is inventive thinking. During the event, Zamhick argued that inventive thinking and innovation are born out of a liquid region between building and dreaming. The unknown mixed with bits of certainty and our innate modes of discovery can create new things, he said. The key is to understand the forces of discovery each of us tap in the process.
Who You Are Leads to What You Make
The foundation of inventive thinking begins with early defining moments that identify what someone is excited about. For Zamchick, this was a memory of him as a 4-year-old boy scooping up a cup of tadpoles from a pond in Waikiki, Hawaii.
"It was kind of an undifferentiated 'wow' experience," Zamchick said. The sense of wonder he felt in that moment made him realize that he was "curious about a lot" and wanted to pursue things that were scientific, behavioral, immersive, and aesthetic.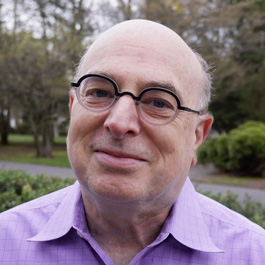 Passion-mapping is another way Zamchick helps guide students toward figuring out their unique interests. In the Creative Applications Studio course at Columbia, Zamchick asks students for drawings that describe early defining moments and things they care deeply about. The illustrations helped reveal their innate traits as an inventive thinker and showed that their interests and life experiences are closely related to what they build.
"Someone who embedded themselves in nature and loves grasshoppers might work out a mobile-housing scenario with eco-friendly and self-sustainable features," Zamchick said. "As opposed to a brute-force method for coming up with applications, this is a passion-driven method for getting to those same ideas." 
What Exactly is Inventive Thinking?
Zamchick said inventive thinking occurs in what he calls the "in-between liquid regions," or "at the intersections of two planes of thought." This concept can also be described as "bisociation," — coined by Arthur Keostler in his book Act of Creation — which Koestler described as "perceiving of a situation or idea in two self-consistent but habitually incompatible frames of reference."
To illustrate the concept, Zamchick shared a project he undertook for Nobu Hotels, a hospitality group that blends modern luxury and minimal Japanese tradition into unique hotel experiences. Zamchick was involved in sketching out concepts for the swimming pool experience. Rather than rely on existing models of swimming pools, he used clear and miso soup as inspiration for his ideas.
In this sense, Zamchick argued inventive thinking is a spectrum of discovery, in which the "inventive mind remains in a state of discovery across all modes of thought," where art, humor, science, and innovation can be combined to create new, meaningful things. 
Inventive Thinking Can Shape a Better Future
Using illustrations from his upcoming book Making Change (Really) Happen, Zamchick described how companies can manage disruptive change by shifting the mindset of their middle management: the people who have the best understanding of how both leadership and operations intersect.
This new "inventive" mindset enables employees to make the leaps of imagination required to address disruptive change, Zamchick said.
To think inventively, individuals must connect authentically, understand their modes of discovery, loosen up their thinking, make leaps, and confront old thinking. "And then of course," Zamchick said, "you have the chance to save the world."