The Pandemic has Inspired and Challenged Medical Innovation
Panelists discussed the impact of COVID-19 on healthcare breakthroughs
The healthcare industry makes up around 18 percent of the US gross domestic product. Yet because of understandably strict regulation that lives depend on, innovation in the sector cannot move as fast other parts of the economy.
However, the need for new and more effective methods of prevention and treatment is constant, and the spread of COVID-19 has emphasized that demand. Multiple companies created vaccines that could end the pandemic, while other inventors devised ways to monitor people's health.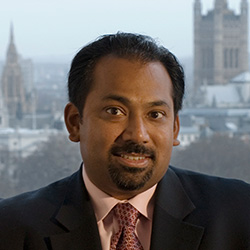 During the Farley Center for Entrepreneurship and Innovation's "Healthcare Innovation during the COVID-19 Pandemic" discussion on February 12, experts from academia and industry examined the latest advances in the field and how the very process of medical innovation is being reinvented amid the greatest global health crisis in at least a century. The virtual event was moderated by Vijay Vaitheeswaran, visiting fellow at the Farley Center and US business editor for The Economist.
One conclusion: Reinventing innovation can mean re-applying ideas used previously.
John Rogers, Louis Simpson and Kimberly Querrey Professor of Materials Science and Engineering, Biomedical Engineering, and Neurological Surgery (and by courtesy electrical and computer engineering, mechanical engineering, and chemistry), and his colleagues at the Shirley Ryan AbilityLab developed a novel wearable device and a set of data algorithms specifically tailored to catch early signs and symptoms associated with COVID-19 and to monitor patients as the illness progresses.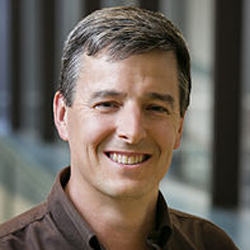 The device built on prior research from a collaboration between Rogers and Arun Jayaraman, a research scientist at Shirley Ryan AbilityLab, which focused on monitoring swallowing and speech disorders in patients recovering from stroke. Rogers said the medical community began asking in March 2020 if the device could be customized to monitor COVID-19's main symptoms: cough, fever, and shortness of breath.
"The alignment of this device with COVID-19 and the whole pandemic was coincidental in a sense," said Rogers, who wore the BandAid-sized device just below the base of his throat during the event. "If you think about COVID-19, it's a respiratory disease. If you want to monitor respiratory activity you don't want to be on the wrist or the finger, you want to be on the chest wall or on the suprasternal notch where this device is located."
Researchers weren't the only ones who changed course toward COVID-19 solutions.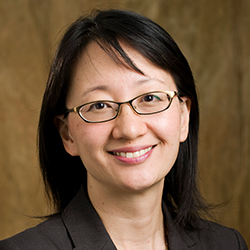 Vivian Lee, President of Health Platforms at Verily Life Sciences, an Alphabet company, said her company leveraged its clinical-trial platform into a COVID-19 community testing program and expanded that to include employers, universities, and other segments. Verily also utilized existing technologies such as a temperature sensor, which took on more importance as symptom monitoring became more crucial. Also, it re-allocated its data scientists to build models on the virus' spread and how often asymptomatic people should be tested.
"We saw a lot of response specifically to COVID," said Lee, author of The Long Fix: Solving America's Health Care Crisis with Strategies that Work for Everyone (W. W. Norton & Company, 2020), and also a senior lecturer at Harvard Medical School. "Separately, we saw a lot of need for our digital health solutions: telehealth, remote monitoring of patients with chronic diseases, and those parts of the business also really grew and had to innovate very rapidly in response."
During the pandemic, many operating rooms have been reconfigured. That's meant elective surgeries and procedures – which help fund the US healthcare infrastructure – have been postponed indefinitely.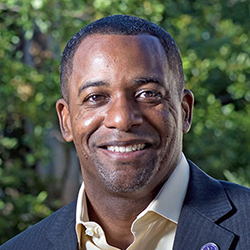 The pandemic also halted clinical trials. Milton Morris ('92, Kellogg '04), president and CEO at NeuSpera Medical, a clinical-stage startup that produces wirelessly powered implant devices, said his company only saw a path forward for trials in physician-owned ambulatory surgery centers during the first two months of the pandemic before things somewhat opened up.
NeuSpera, like many similar companies, morphed in different ways. Travel restrictions that vary from state to state and testing policies that differ from country to country hit the company hard.
"Having the ability to move forward in the context of these new realities of COVID-19 means rapid testing, which is an innovation in and of itself and continues to get better," Morris said. "Over-the-counter testing became very important for us, and the ability to really manage your lifestyle and your work in the context of a bubble and quarantine and still move studies forward. We were able to do it."