Lessons Rooted in the Real World
With vulnerability and purpose, Farley instructor Trish Thomas shares tales from the entrepreneurial frontlines.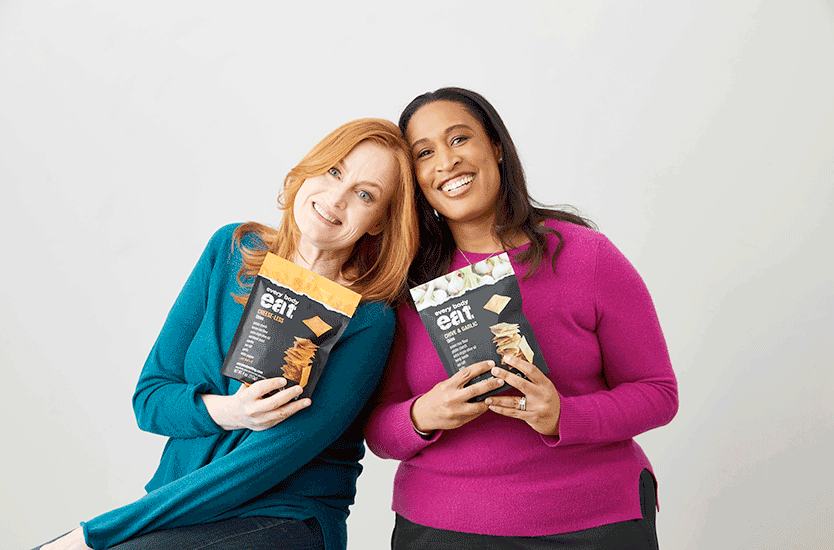 When Every Body Eat® products hit retail store shelves on March 1, 2020, after years of rigorous development and planning, Trish Thomas couldn't help but celebrate.
Within weeks, however, the euphoria evaporated as the COVID-19 pandemic turned the world upside down and Thomas, who co-founded the snack foods company alongside former PepsiCo executive Nichole Wilson, wondered if their startup could survive.
Thomas and Wilson had to immediately pivot from prioritizing sales to food service clients such as universities and schools — which closed because of the pandemic — to selling into retail to show proof of concept. By August 2020, they were selling every snack thin they could make.
Since then, it has been a steady stream of highs and lows. When Thomas and Wilson received word last spring that the US Small Business Administration (SBA) was awarding Every Body Eat a $2.2 million grant as part of the agency's Restaurant Revitalization Fund, calmer waters seemed within reach, and they expected to be able to finally open a "grab n' go" location for their products in Evanston. The partners began making decisions with that capital infusion in mind, only to have discrimination lawsuits against the SBA squash the distribution of those funds to their company and 2,900 other women, minority, and veteran-owned businesses.
"When I got that news, I sat on my kitchen floor and cried," said Thomas, a lecturer at Northwestern University's Farley Center for Entrepreneurship and Innovation. Companies like ours, that started during the pandemic, haven't been able to receive most governmental support because our businesses didn't exist in 2019."
Authentic lessons in resilience
The partners' relentless pursuits stabilized Every Body Eat®. By fall 2021, the company's allergen-friendly snack thins and crispbreads had found a home in some 900 stores across the Midwest, while Every Body Eat® also bested more than 325 startups from 32 countries to capture the $1 million grand prize in the Grow-NY food innovation and agriculture technology business competition.
Over the next year, Every Body Eat products will flow into Whole Foods Market stores around the US and move into a larger production facility which will increase their production capacity from 300 cases a day to 2,300 cases a day. 
"It's been a wild ride," said Thomas, who openly shares her hard-charging business adventures with Northwestern students enrolled in her Farley Center classes, including the Entrepreneurial Endurance, Leadership, and Mindset course she co-teaches alongside Billy Banks.
As Thomas sees it, sharing real-life examples of building and carrying a new company through the pandemic — tales of rejection, anxiety, and even tears — enhances student learning and sparks authentic connections to the material.
"So many times, we could have failed and lost everything," Thomas said. "I'm honest about what's going on with Every Body Eat®, because entrepreneurial ventures are always a winding road with a lot of scary spots along the way."
In recounting stories from the entrepreneurial frontlines, some in near real time, Thomas provides students real-world lessons in managing through adversity, asking for help, navigating difficult conversations, and reframing failure as usable data. Rather than highlighting conceptual ideals or hypothetical scenarios, Thomas retells scenarios modeling the very behaviors she champions to students.
"The guests in our classes and our team at Every Body Eat® are living proof these concepts work," said Thomas, who regularly invites guest speakers into the classroom to relate their own lessons in entrepreneurial resilience.
Impacting students
Thomas's candor, transparency, and vulnerability in discussing her successes and stumbles with Every Body Eat®, as well as her past entrepreneurial turns in the toy industry and entertainment arena, have made a strong impression on students.
Annabel Forman (BA '24), who completed Thomas and Banks's Entrepreneurial Endurance course last spring, called Thomas "an inspiration." Forman said she appreciated how Thomas used personal experiences to underscore important concepts and then challenged students to apply classroom lessons into their daily lives. In one exercise designed to encourage "fearless asking," for instance, Thomas directed students to ask 10 people in their personal life for something likely to be rejected.
"Through Professor Thomas, I've learned a lot of about entrepreneurship, of course, but even more about advocating for myself and putting myself forward. If you start to back down, then you never find what you're looking for," said Forman, who is now "fully committed" to Farley's undergraduate minor in entrepreneurship because of Thomas's courses and the broad applicability of her lessons.
Emily Drucker (BS '22), who took the Entrepreneurial Endurance course in fall 2020 before interning at Every Body Eat® last spring, said Thomas's earnest willingness to bring students behind the scenes highlighted the prominent roles perseverance and self-advocacy play in success.
"There's a relentlessness that entrepreneurship requires, and you see that living in her," Drucker said of Thomas. "It's absolutely inspiring."
For Thomas, who calls teaching her love, showing the full spectrum of the entrepreneurial life is important to helping students inject resiliency and grit into their personal and professional lives.
"The field of entrepreneurship didn't exist when I was in college and there were no resources to learn how to manage failure or navigate adversity, so this is personal for me," Thomas said. "I hope to give students tools to be successful, so that they can enjoy happy lives, healthy families, and fulfilling careers and then pay it forward."