Mary Lou Song Joins Farley as Adjunct
Song is a Medill Hall of Achievement inductee and founding employee of eBay
Mary Lou Song ('91), with more than 20 years of experience in entrepreneurship, technology, and digital media, joins the Farley Center for Entrepreneurship and Innovation as an adjunct faculty member, effective Winter Quarter.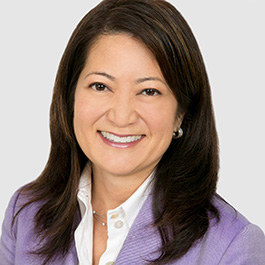 Her e-commerce career began in 1996 when she joined eBay as a founding employee and senior product manager. She led product management and community teams, and helped grow eBay's user base from 15,000 members to more than 20 million globally.
Next, Song worked on digital technologies as director of community development for the social networking company Friendster. She also launched several media companies focused on blogging, aggregated news, and video products, including FuelX, an advertising company she founded in 2013. 
At Farley, she co-teaches NUvention Web+Media. She is also a former member of Northwestern's Board of Trustees, and was inducted into the Medill Hall of Achievement in 2019.
We asked Song to share what she hopes to teach Farley Center students, and why innovation and entrepreneurship is so important:
What are you looking forward to in this new job?
I am so excited. The Farley Center pulls so many people from so many parts of the Northwestern community — undergraduates and graduates of all majors, faculty, and alumni from every school. Everyone is learning together. But more importantly, they're working together and encouraging each other to achieve something together. That's incredibly special. Who wouldn't be excited to be a part of that?
What are the key innovation and entrepreneurship lessons you want to teach Farley students?
I have spent my career building companies and teams and technologies. Being an entrepreneur can be incredibly exciting and also incredibly terrifying. It's a walk on fire. So, I hope that I can teach Farley students the skills that they'll need to do what they love. But I also want to encourage them to be brave enough to take that walk.
You've been an adjunct lecturer at Medill School of Journalism, Media, Integrated Marketing Communications. What is your favorite part about teaching at Northwestern?
It's that sense of community at Northwestern when our students, faculty, and staff all come together. We all share a love for learning, for helping others and serving the public good and doing good for the world. That may start in the classroom, but it flows into everything that we achieve together.
I was a Medill cherub and a Medill undergrad. I've been lucky enough to be a part of the teaching team for the Medill cherubs program for the last 18 years, and I've been an adjunct faculty member at Medill.
Why are innovation and entrepreneurship skills valuable for all students?
Because these are skills to identify hard problems, to invent and iterate on solutions, and to empathize with people who have hard problems, that need solutions, and try to make their lives better. Those are life skills. And I'm telling you. If every university produced graduates with those skills, the world would be a better place.