Farley + Performing Arts
In Farley courses, theatre and performing arts students develop important entrepreneurial skills to power their creative pursuits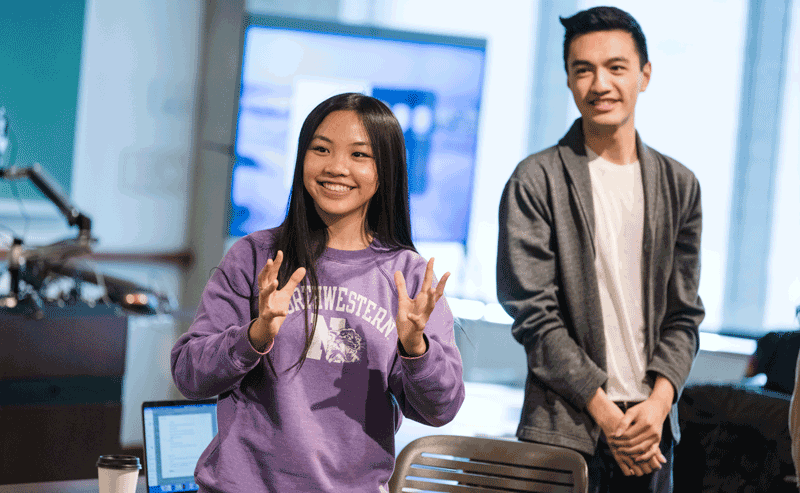 Though so often put in contrast, if not direct conflict, the performing arts and business are not so dissimilar. The performing artist, after all, is an entrepreneur, a self-starter who creates, takes risks, and seeks to bring audiences something new and exciting.   
Taken a step further, entrepreneurial skills and an entrepreneurial mindset can enhance the performing artist's craft and enrich their career. 
From a purely pragmatic sense, typical employment in the performing arts exists in freelancing, nontraditional work environments including short-term projects, contracts, and self-employment. Possessing core entrepreneurial skills such as time management, organization, networking, and negotiating stand vital to achieving — and managing — a sustainable career in the performing arts.  
Entrepreneurial skills also empower artistic growth and advance the performing artist's work. When performing artists can think critically about their art, the doors open to enlivened ideas and new processes to enhance their creative practice. Much like the entrepreneur, the performing artist seizes opportunity through a consistent process of growth rooted in reflection, renewal, and resilience. 
To be certain, the successful performing artist is part entrepreneur — collaborating with diverse peers, communicating their value, managing their time, and understanding the expectations and needs of their audiences to deliver a spirited and compelling product. Performing artists who embrace an entrepreneurial mindset stand well positioned to thrive in a dynamic, fluid industry that is inherently risky, unapologetically daring, and undeniably dependent on one's ability to navigate uncertainty and develop their skills. 
How Farley Propels Performing Artists 
In Farley courses, theatre and performing arts students develop important skills to power their professional pursuits, such as learning how to: 
Apply entrepreneurial skills and ideas in the performing arts context

 

Think creatively, strategically, and analytically about market opportunities as well as personal and professional development

 

Build confidence to bring new ideas to life and introduce them to others

 

Advocate for themselves and their ideas

 

Communicate and collaborate with individuals from diverse backgrounds

 

Reflect on work and its possible impact on audiences

 

Evaluate the market, negotiate value, and assess the potential of new opportunities

 

Strengthen the brand of their organization or their own personal brand

 

Assess opportunities for new venture creation in the performing arts

 

Build a set of tools to make their passion a sustainable source of income, if not a livelihood

 
Farley Courses for the Performing Artist 
NUvention: Arts and Entertainment (ENTREP 476) immerses students in the process of launching a new venture in the arts and entertainment space — from ideation to refining a comprehensive pitch. In addition, students can explore the following:  

Farley and Beyond 

Theatre Management Module  
The School of Communication's Theatre Management Module creates a comprehensive, multi-year learning experience to understand the world of professional theatre, including staff and volunteer leadership, budgeting, contracts, negotiations, community engagement, marketing, and fundraising. 
Learn and Imagine Together Through Theater (LITTT) 
A new social impact partnership between Northwestern's Imagine U and Evanston/Skokie School District 65, LITTT enables Northwestern Theatre students to step into the role of being teaching artists and understand the world of youth arts education.  
Alumni Spotlight 

Bryan Eng (BS Theatre and Music Direction '20) 
Actor and Musician on stage, TV/film, and jazz venues 
The Farley advantage: "Taking courses at Farley was a critical supplement to my education in the theatre and music schools. Farley reinforced my understanding that I am running a business as an artist and the more I can proactively maintain an entrepreneurial mindset and practice, the more opportunities I'll get." 
Student Spotlight 

Elise Pakiela (BA '24) 
Northwestern student, Development Director of Seesaw Theatre and Company Manager of Purple Crayon Players 
In addition to pursuing a degree in theatre, Pakiela is also on pace to complete a minor in entrepreneurship at Farley. At Northwestern, the aspiring arts administrator co-produced a showcase of short plays written by recent graduates of the Northwestern Radio, Television, and Film and MFA program in spring 2022, while she also served as director of sales and promotions for the Dolphin Show, the nation's largest student-produced musical. 
The Farley experience: "I have found it incredibly beneficial to work with professors who are actively bridging the gap between art and business in their careers. My coursework has helped me to see that entrepreneurial thinking can be applied to any profession and that the strongest leaders are consistently seeking ways to innovate in their given fields."